Awards
DATE :
09/09/2019
REGION :
United States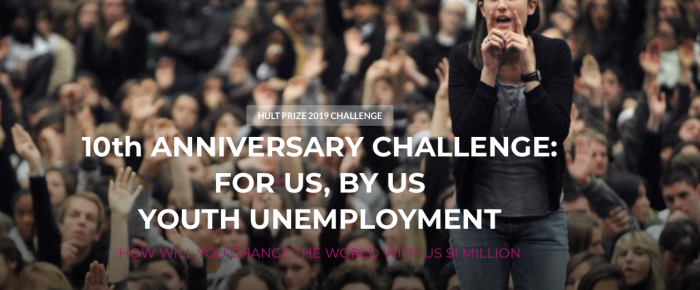 2019 Hult Prize Online Challenge
The Hult Prize Foundation is a start-up accelerator for impact entrepreneurship which brings together the brightest college and university students from around the globe to solve the world's most pressing issues through pitching ideas and launching companies. It's the biggest and most prestigious start-up event in the world, and awards millions of dollars in investment capital to young budding entrepreneurs, including a grand prize of USD1Million. Winners will also benefit of mentorship and advice from the international business community.
The Hult Prize is offered in partnership with Former US President Bill Clinton and the Clinton Global Initiative. It is hosted and supported by Hult International Business School. And it is generously funded by Swedish entrepreneur Bertil Hult and his family. It has been called the "Nobel Prize for Students" by media outlets world-wide.
Each year, a critical social problem is selected by President Bill Clinton and a challenge issued. Teams of 3-4 students are challenged to develop a custom tailored innovative start-up enterprise to eradicate the problem. Access to Education. Clean water. Affordable housing. Clean energy. Solar Power. Food insecurity. Healthcare. These are a few of the issues competitors have tackled since the competition's inception.
Named as one of the top five ideas changing the world by President Bill Clinton and TIME Magazine, the annual competition for the Hult Prize aims to create and launch the most compelling social business ideas—start-up enterprises that tackle grave issues faced by billions of people.
You don't need an idea to start. Particpants compete in local events organized in cities, countries and on campuses around the world. Regional and national programs are hosted world-wide and winners of these events get to spend 8-weeks living, working, learning and playing in a castle in the UK. If your university doesn't host an on-campus round or you would just rather apply into a regional round.
Regional events host on-campus winners and teams from around the world, so feel free to apply anywhere, not just the city closest to you.Regional Semi-Final Rounds of competition will be held in Boston, San Francisco, London, Dubai, Shanghai, Toronto, Mexico City, Quito, Bogota, Melbourne, Lagos, Nairobi, Cairo, Tunisia, Kuala Lumpur and Singapore on the weekends of of March 09-11 and March 16-18, 2018. Regional winner's will be invited to a 8-week summer accelerator in a castle in the UK.
Winning start-ups from each city move onto the Hult Prize Accelerator for the summer before attending the President Bill Clinton hosted global finals at the United Nations, which take place in September, during UNGA. The Hult Prize is the official kick-off to UN GLOBAL GOALS WEEK, so it's the perfect place to pitch for a million dollars. Collectively, more than one-hundred thousand students around the world, representing more than 150 countries participate in the Hult Prize and spend over 10 million man-hours on solving the world's most pressing issues. Tens of thousands more students organize various trainings and programming throughout the years. Through crowdsourcing, training, mentorship and funding, the Hult Prize seeks to build and launch the next wave of social entrepreneurs, all of whom are poised to change the world
Eligibility
– To enter the competition you must be a current student of a higher education institution at the time your application was submitted.
– 3-4 persons may compete on each team, and only these persons will be considered as part of your team. Team members are those that are listed on your application and those that have been amended by written confirmation.
– Only currently enrolled students, full or part-time at the time of application submission will be considered students.
Benefits
– Be part of an international community of change makers
– Become a social entrepreneurship leader in your country
– Launch disruptive start-ups
– Introduce social change
Top Campus Directors are eligible to receive:
– All expense paid trip to New York City
– Flight and accommodation to the Hilt Prize Global Accelerator at their Castle in London in July 2019
– Meet Muhammad Yunus
– United Nations exclusive tickets
– Full-time job with Hult Prize Foundation
Application
Apply here before December 23, 2018.
Read more on the official website. Terms and conditions are available here.
Application Process
Apply online through the given link.