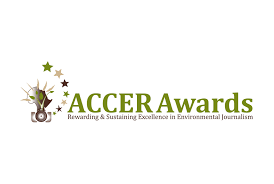 Africa Climate Change and Environmental Reporting (ACCER) Awards 2018
Apply here
Deadline: 5 August 2018
Description:
Launched during the World Environment Day 2018 in Nairobi, Kenya, the 4th Edition of the African Climate Change and Environmental Reporting (ACCER) Awards aims to incentivize and create a critical mass of journalists reporting on the area of climate change and environment.
The 2018 ACCER Awards contest theme "Changing the Narrative on Environmental Challenges in Africa: the Case of Pollution" will guide participants' entries and awards based on how they demonstrate information delivery in the following specified categories:
Print
Radio
Television
Photojournalism
Online (multi-media)
Benefits:
Overall Prize:
-Cash reward of US$1000
-Full Sponsorship (including return air ticket, accommodation and other living expenses) for UN Climate Change Conference on 3 – 14 December 2018 in Katowice, Poland
-Fellowship to participate in high-level reporting and training throughout 2019 courtesy of ACCER Awards Partnership.
Eligibility:
The competition is open to all journalists from Africa and from established media houses: private or public-sector media. Freelance journalists are also eligible.
Submission Format:
– Entries must be original pieces written or broadcast in English or French only.
– Entries submitted in each category MUST be from between January 2017 – June 2018. Articles published outside the indicated time-frame will not be accepted.
– Each candidate will submit only one print (in word) or audio piece (in mp3 format).
– All entries are to be submitted in the format below:
>Print word limit: Maximum 1,200 words
>Font: Arial, 12 point
>5 line spacing
>Audio pieces: Maximum (5) five minutes
>TV pieces: Maximum (5) five minutes
For more information, click here.
Application Process
Apply online through the given link.