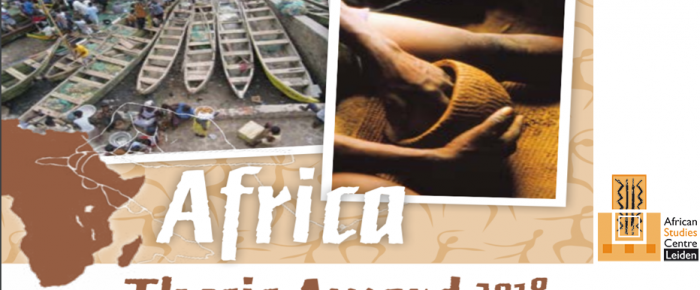 Africa Thesis Award 2018
Apply here
Deadline: 8 July 2018
Description:
The award aims to encourage student research and writing on Africa and to promote the study of African cultures and societies. It is presented annually to a student whose master's thesis has been completed on the basis of research conducted on Africa.
Benefits:
A prize of € 500
Publication of the winning thesis in the ASCL's African Studies Collection
Thesis:
-The thesis has to be based on independent empirical research related to Africa and to socio-geographical, economic, political, juridical or anthropological issues or focusing on the humanities, such as history, religion and literature.
-Its geographical focus should be Africa or its migrant communities elsewhere in the world. The thesis must be socially relevant.
-The thesis must have been examined in the twelve months prior to the deadline for submitting manuscripts.
-The thesis can be submitted if it is written in English, French or Dutch. (If the thesis is in Dutch, a five-page English or French summary should also be attached.)
Eligibility:
Final-year students who have completed their master's thesis at a university in Africa or the Netherlands
Graduated with distinction, i.e. 80% or higher, or a Dutch rating of at least an 8
Students from non-Dutch universities who have grade A or similar may also apply if the accompanying letter from the supervisor confirms and supports the grade score
Eligible Regions: Africa, The Netherlands
For more information, click here.
Application Process
Apply online through the given link.