Awards
DATE :
19/02/2019
REGION :
South Africa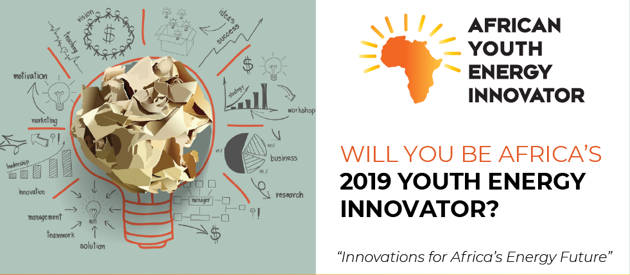 African Youth Energy Innovator Showcase 2019
Africa Energy Indaba has presented the third African Youth Energy Innovator Showcase. The contest is open to 18 to 35 year old individuals from across Africa; and the submitted innovations should address the key areas of energy security, environmental sustainability, energy equity and job creation.
Africa needs to invest in and grow its next generations of energy leaders if its countries and the broader continent are to compete in the global arena. Africa Energy Indaba is committed to empowering talented young Africans by allowing them to be seen by the industry experts and energy decision makers. Africa Energy Indaba wants to encourage empowerment and help find solutions to energy problems in Africa. They want to foster inspirational and innovative thinking, starting with the talented youth in Africa.
Eligibility Criteria
• Individuals who are between 18 to 35 years old; AND
• Have citizenship to any country in Africa
YOUR INNOVATION SHOULD ADDRESS THESE KEY AREAS:
1. Energy Security: Can your innovation help with effective management of energy supply, reliability of energy infrastructure, or meet a specific set of current and future demands?
2. Environmental Sustainability: Does your innovation provide clean renewable or low carbon supply energy?
3. Energy Equity: Can your innovation improve accessibility and affordability of energy in Africa?
4. Job creation: Could your innovation create jobs?
5. Target customers: Who is the innovation going to benefit? For example Utilites / Rural communities / Corporates etc.?
6. Customer value: What are the key benefits of your innovation to customers?
7. Your unique value proposition: How will you differentiate and position yourself?
Benefits
• The winner will receive the Best Innovator Award and will be recognized at the Africa Energy Indaba 2019 in Johannesburg.
• The Top-5 finalists will each receive an opportunity to showcase their Innovation in a 2-day Exhibition during the Africa Energy Indaba. All expenses paid (flights, accommodation, Exhibition Stand, free media coverage of your innovation).
This will provide the following benefits:
– Publicity and exposure of the winning innovations to local and international market opportunities
– Access to exclusive Business Matchmaking networking programme to meet with potential investors
– Opportunity to meet key public and private sector stakeholders
– The possibility of attracting funding or sponsorship
Deadline
The deadline for submissions is 04 January 2019 (midnight GMT+2). No late entries will be accepted after the close date.
Read more and apply here.
Application Process
Apply online through the given link.