Awards
DATE :

REGION :
Lebanon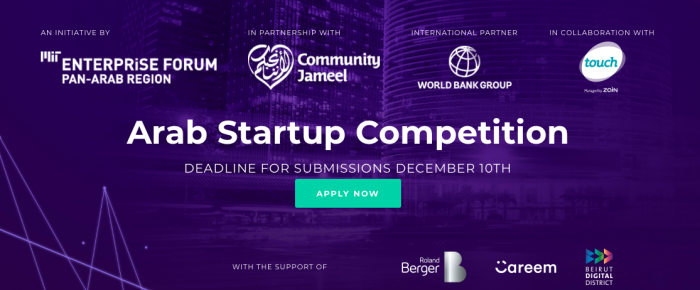 Arab Startup Competition by MIT Enterprise Forum Pan Arab
The Arab Startup Competition is a yearly competition run by the MIT Enterprise Forum Pan Arab that pits entrepreneurs in 3 different tracks: Ideas Track, Startups Track and Social Entrepreneurship Track. The winning entrepreneurs are awarded prizes worth more than USD 160K and benefit from a range of other activities, including top tier training, mentorship, coaching, media exposure, and great networking opportunities.
– STARTUPS TRACK: Caters to legally registered companies. Applicants should have a working prototype and ideally some user traction and some sales. Read more here.
– IDEAS TRACK: Caters to entrepreneurs with innovative ideas. Applicants are not required to have a prototype, sales or have their service registered as a company. Read more here.
– SOCIAL ENTREPRENEURSHIP TRACK: Caters to companies whose core product or service addresses a social problem. Read more here.
Benefits
– Top tier trainings
– Mentorship
– Media exposure
– Networking opportunities
– Equity free prize money
Prizes
– Cash prizes will be awarded to three winning teams from each track.
– Prize money will only be transferred to the legal entity specified in the Engagement Letter.
– Prize money will NOT be transferred to individuals.
– If the startup was not registered as a legal entity within the 3 months following the competition, MIT EF Pan Arab will no longer transfer the money prize.
– MIT EF Pan Arab will endeavour to send prizes within three months of the competition end date but cannot guarantee this delivery time.
Terms and Conditions
Each team is allowed only one entry for the same track.
To enter the competition, you must:
– Log in to your account or create a new one if you don't have one.
– Select the track
– Choose the language you'd like to continue with.
– Select the track you're eligible for.
– Fill out the application form.
Terms and Conditions available here.
Deadline
December 10th, 2018
More info here.
Apply here.
Application Process
Apply online through the given link.