Awards
DATE :
13/07/2019
REGION :
United Kingdom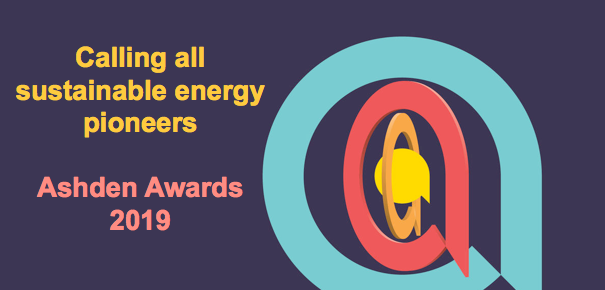 Ashden Awards 2019
Applications for the Ashden Awards 2019 are now open. The Ashden Awards reward innovative enterprises and programs that play a key part in enabling the delivery of sustainable energy system and through this bring social, economic and environmental benefits. Established in 2001, the Ashden Awards are globally recognised as a mark of excellence in the field of green energy.
On 13 June 2019, 10 winners from around the world will receive a prize fund and global recognition for their achievements in increasing access to sustainable energy, promoting sustainable travel and helping build a low-carbon future.
Who can apply
The Ashden Awards are open to any type of organisation, including businesses, social enterprises, not-for-profits and public sector.
The applicant must:
-Have products or services currently available for customers, clients or beneficiaries.
-Be delivering, or helping to deliver, significant social and economic benefits to individuals, communities or businesses. Work must respect local culture and customs.
-Be delivering, or helping to deliver, demonstrable benefits to the environment.
-Show an innovative approach to sustainable energy and have the potential to create significant impact in terms of sustainability, and are willing to work with Ashden after winning an award.
-Be working towards financial sustainability.
-Be able to demonstrate capacity and commitment to make the use of sustainable energy more widespread.
-Be able to contribute to Ashden's mission, which is to encourage the growth of sustainable energy systems to tackle climate change and bring social and economic benefits to millions.
Awards
-Prize fund of up to £20,000
-Broadcast-quality films and media materials
-Tailored support to help you expand
-A global platform to showcase your work
How to apply
All applications must be completed and submitted here.
Deadline
Applications for the 2019 Ashden Awards opened on 4 September 2018 and close at 11.59 GMT on 6 November 2018.
Read more here.
Application Process
Apply online through the given link.