Awards
DATE :

REGION :
Canada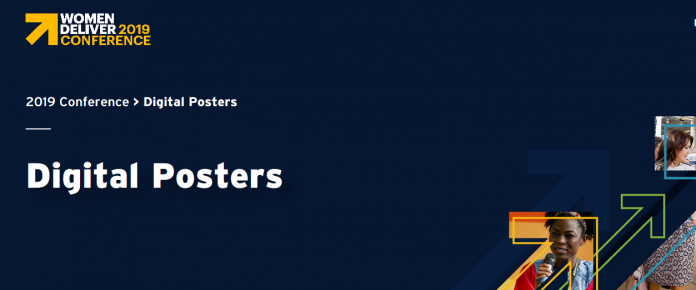 Call for Submissions: Digital Poster for Solutions Competition 2019
Deadline: November 16th, 2018.
WD2019 is seeking the latest research and initiatives that demonstrate the impact of advocacy for gender equality and the health, rights, and wellbeing of girls and women. In line with the Women Deliver Conference theme of "Power, Progress, Change", submissions showcase the latest solutions-oriented research and evidence-based initiatives.
They welcome original work from representatives of all sectors — researchers, experts, advocates, enthusiasts, students, and industry professionals alike — documenting proven strategies to improve the lives of girls and women through advocacy.
The focus of the advocacy may align to any of the following topics:
-Understanding Gender and Power
-Political Participation
-Education
-Economic Participation
-Work and Home
-Sports
-Media, Arts, and Pop Culture
-Meaningful Youth Engagement
-Sexual and Reproductive Health and Rights
-Maternal and Newborn Health
-Comprehensive Health
-Gender-Based Violence and Harmful Practices
-Nutrition
-Partnerships
-Advocacy and Accountability
-Humanitarian and Fragile Settings
-Environment/Climate Change
-Rural and Urban Issues
-Religion and Faith
-Resources: Land, Energy, Water, Sanitation
-Innovation and Technology
-Financing for Development
Location: Canada
Benefits
Visit the official website for details.
Eligibilities
-Abstract content must be advocacy and solutions-oriented related to improving gender equality and the health, rights, and wellbeing of girls and women
-Abstract content must be new and current (Exceptions include if data came from a longitudinal study that recently ended or is still ongoing, or if older data are relevant for comparison to demonstrate progress and innovation)
-Research studies must follow the country's ethical review procedures (i.e. Institutional Review Board protocol)
-The abstract must be submitted in English, using the online form
-Your abstract must be new and unpublished. (An abstract previously published or presented at a conference or meeting can only be submitted if there are new methods, findings, updated information, or other valid reasons for submitting, with justification.)
-You have been involved in the research or evidence-based initiative described in the abstract and are able to present the content in English at the Women Deliver 2019 Conference should your abstract be selected
-You have a proficient level of computer skills for submitting a digital poster using the official poster hosting platform if accepted
Eligible Regions: Global South Countries.
Click here to find more information.
Application Process
Apply online through the given link.