Awards
DATE :
31/05/2018
REGION :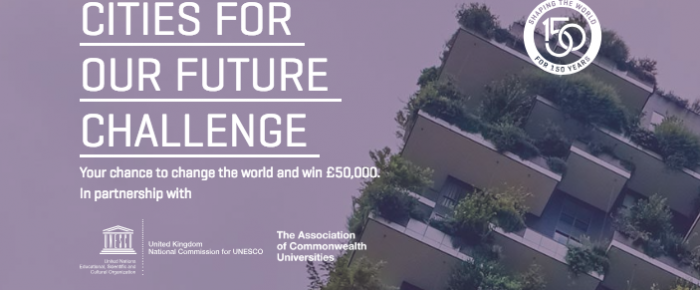 Cities for Our Future Challenge 2018
DEADLINE: 31st May 2018
DESCRIPTION:
The Cities for our Future Challenge is a global competition run by the Royal Institute of Chartered Surveyors (RICS) in partnership with the UK National Commission of UNESCO.
They are inviting imaginative problem solvers from the wider field of surveying, urban design, architecture, and engineering to submit transformative ideas for projects and policies that solve some of the defining challenges of our time: Rapid Urbanisation, Climate Change, and Resource Scarcity.
BENEFITS
-If you have got a transformative idea for a project or policy and you want to make a positive contribution to the world, potentially build your professional profile at an international level and kick-start a rewarding and varied career, then this is the competition for you.
-If you win, there's also a £50,000 prize up for grabs and the chance to work with experts and mentors from within the surveying industry.
-Your idea could be made into a prototype that makes a positive contribution to the world.
ELIGIBILITIES
-The competition is open to anyone, apart from employees of the RICS.
-They are particularly interested in hearing from young professionals, students or startups in the field of surveying, urban design and engineering, and green technologies.
Application Process
Apply online through the given link.