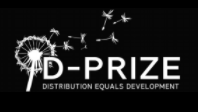 D-Prize Global Award for Aspiring Entrepreneurs 2018
Apply HERE
Deadline: Early April 2, 2018. Regular April 23, 2018.
Description:
D-Prize funds new entrepreneurs who increase access to proven poverty interventions.
The world has already invented ways to end poverty, yet the best interventions are not being distributed at mass-scale. Can you design a business or NGO that solves one of the Distribution Challenges below?
If selected we will award you up to $20,000 to launch a pilot in any region where extreme poverty exists.
Who should apply?
You should have enormous ambition, and can imagine yourself as a successful entrepreneur. You are ready to launch your new venture, and – if a pilot proves successful – you are excited to grow it into a world changing organization.
If you are still a student or have existing commitments, you should have a clear idea how to transition into a full-time founder.
D-Prize is exclusively interested in ventures that will scale distribution of an already proven poverty intervention in the developing world. We do not fund prototypes of promising new interventions.
Eligibility:
D-Prize is for aspiring entrepreneurs from anywhere in the world, of any age, and any background.
We will consider funding existing organizations only if: you are piloting a new distribution-focused initiative, and you need high risk capital.
D-Prize challenges are open to anyone or any teams. The sole restriction is that individuals and their immediate family on the judging panel may not participate as a contestant.
D-Prize is also open to any business model (for profit, non-profit, and everything in between). All winners will be awarded up to $20,000. The award is offered in the form of a convertible grant.
Up to 25 of the most promising proposals will be selected for funding awards, regardless of which challenge track was selected.
Submission policy:
Proposals must be submitted following the instructions in this packet.
Extra material outside of the proposal will not be considered.
Revisions to proposals after submission will also not be considered.
Only one proposal per person or partnership will be considered.
Proposals must be written in English.
Application process:
All the information HERE
Application Process
Apply online through the given link.