Awards
DATE :
06/12/2018
REGION :
Lebanon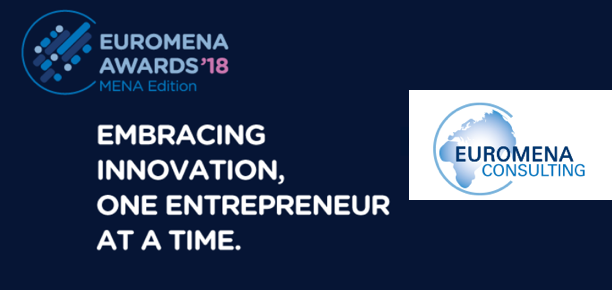 Euromena Awards 2018 – MENA Edition
The Euromena Awards is an annual startup competition organized by Euromena Consulting to benefit local and regional startups. Following the first successful Edition of the Euromena Awards held in Abidjan, Ivory Coast in 2017, Euromena Consulting launches the Middle East and North Africa (MENA) Edition of the Awards this December, empowering and equipping startups to scale their businesses in the region.
The Awards ceremony will be hosted in Beirut, Lebanon at the heart of the startup ecosystem in Beirut Digital District (BDD) on the 6th of December 2018.
Objective
The objective of the Euromena Awards – MENA Edition is to address the region's most pressing problems through technology that serves a social impact. Amid a rapidly developing startup and tech scene in the MENA region, Euromena Consulting is eager to learn more about and engage with the region's promising social enterprises that can demonstrate a clear impact on local problems.
The impact of the Awards will be two-fold; short term and long term:
Short term impact:
– Transforming solid ideas that proved to be fundable and scalable, into long-term, sustainable ventures that address pressing social challenges
– Enhancing contact and engagement with the region's rising entrepreneurs
Long term impact:
– Empowering and equipping the next generation of social entrepreneurs that play a central role in bridging gaps between technology and everyday social problems
– Expanding the network of local and regional partners and stepping-up our commitment to emerging ecosystems
Themes
The Euromena Awards – MENA Edition welcome startups that aim to resolve a specific challenge or problem, and that include social impact as part of their business' core values. They can be aligned with any of the below themes:
– Education
– Culture
– Gender Equality
– Discrimination
– Youth
– Health
– Financial Inclusion
– Environment
– Social and Economic Development
Eligibility Criteria
The Euromena Awards – MENA Edition welcome businesses that meet the following criteria:
– They must be in "startup" mode and seeking to expand or scale-up
– They must respond to a clear social impact, whereby an intentional positive outcome is meant to solve a certain social challenge or problem
– They must use technology either as a tool or as an end product or service
– They must demonstrate economic viability
– They must have a fully working product/service that has already been produced/launched
– They must be based in one of the following eligible countries: Lebanon, Syria, Palestine, Jordan, Egypt, Morocco, Algeria, Tunisia, Libya, Iraq, Yemen, Qatar, KSA, Bahrain, UAE, Kuwait, and Oman
Selection Criteria
The jury members will select the finalists based on the following main criteria:
– Quality of idea – level of innovation, level of competitiveness, use of technology
– Quality of product/service – clarity of ideas, scalability
– Quality of business model – clarity of vision, clarity of approach, sustainability
– Quality of management/leadership – educational/professional backgrounds, team organization and division of tasks
– Level of impact – evaluation of the level of impact on surrounding society or environment
– Feasibility – social and economic
Rewards For Winners
– 6 months of customized, high quality business consulting support including coaching, mentorship, and advisory services adapted to the winner's needs, valued at US$150,000
– Networking, exposure and access through Euromena Consulting's vast existing network of key stakeholders across the MENA region
– Local and regional engagement with partners, clients and beneficiaries through access to Euromena Consulting events and opportunities
– Financial support for top three winners
– $10,000 for the winner
– $3,000 for the 2nd place
– $2,000 for the 3rd place
Timeline
– Deadline: October 29, 2018
– Announcement of finalists: November 9, 2018
– Award Ceremony: December 6, 2018
Apply here.
Read more here.
Application Process
Apply online through the given link.