Awards
DATE :

REGION :
Bahrain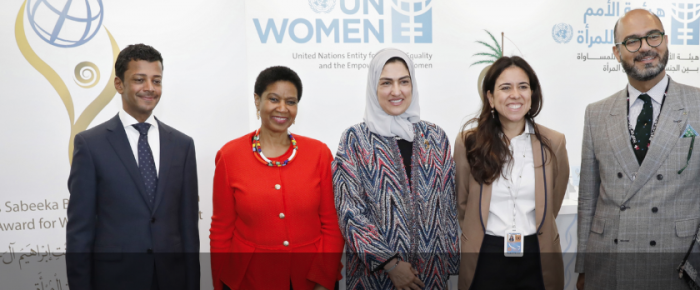 Global Award for Women's Empowerment
Princess Sabeeka Bint Ibrahim Al Khalifa Global Award for Women's Empowerment
Apply here
Deadline: 31st August 2018
Description: 
The Supreme Council for Women in Bahrain, in partnership with UN Women, launched the Global Award for Women´s Empowerment on the margins of the Commission of the Status of Women. It was launched with the aim to highlight achievements which reflect progress in the status of women on national levels. It seeks to recognise efforts, initiatives and projects – either institutional or individual – aimed at mainstreaming women's needs, contributing to positive change in reality towards a more social, economic and political security.
The award recognizes individuals, organisations, companies and member states who are doing exceptional work for women's empowerment in their communities, across four categories: public sector; private sector; civil society and individual champions. Each award is valued at $100,000.
Specifically the award aims to:
-Highlight the contribution of the public and private sector, civil society and women's rights champions to worldwide efforts for the achievement of gender equality and the empowerment of women and girls.
-Achieve justice and equal opportunities between women and men
-Encourage innovative approaches and solutions to achieve women's empowerment in policy and programming, and to provide a global space to celebrate these achievements.
-Foster creative and inclusive thinking by communities to collaborate to achieve women's empowerment, recognizing that equality for all, means prosperity for all and sustainable development for communities and nations.
Criteria:
The award will have three categories:
-Public sector: Recognizing the achievements of a government institution for their work on women's empowerment
-Private sector: Celebrating the achievements of a firm that has truly embodied gender equality, and has introduced innovative and ground breaking measures to ensure women's engagement and leadership
-Civil society/Individual: Recognizing the work of a civil society association or an individual champion for women's empowerment. This category aims to highlight specifically those who fill the gap and provide a niche in the area where no one else is doing so
For more information, check the handbook.
Application Process
Apply online through the given link.