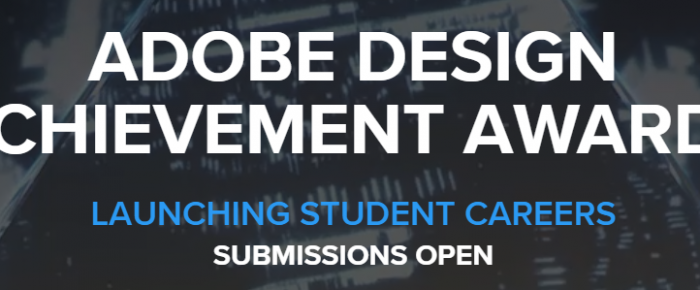 International Adobe Design Achievement Awards for Students 2018
Apply HERE
Deadline: June 4, 2018.
Description:
The ADAA is a global digital media competition for student creators. Connected to industry professionals, academic leaders, and top brands, the ADAA is launching the next generation of student careers. With 14 categories, the ADAA is a competition for creative students of all disciplines.
Entries incorporating new forms of media may be recognized with an "Excellence in New Media" Special Designation. Students working with virtual reality, augmented reality, 360 photography, and other emerging technologies are encouraged to apply in the segment that best describes the purpose of their work, and in the category that best aligns to the final product.
Eligibility:
Contest is open to individuals who are: (1) 18 years of age (or the age of majority in your jurisdiction) or
older; and (2) students enrolled in an accredited institution of higher education at time of entry.
Individuals residing in the following countries, states, and territories are excluded: Brazil, Northern
Ireland, the Province of Quebec, and the Indian state of Tamil Nadu.
For group entries, everyone who worked on the entry must be listed on the entry form and meet
the eligibility requirements. One of these people must be designated on the entry form as lead
team member. Employees, independent contractors, officers, and directors of Sponsor; its affiliates,
subsidiaries, advertising, promotion, and fulfillment agencies, and legal advisors; the judging panel;
and the immediate family members and persons living in the same household of such persons are
not eligible to participate in the Contest. All federal, state, provincial, autonomous, and local laws and
regulations apply.
Each participant may submit 3 unique entries per Category, and regardless of the number of entries
entered, each participant is only eligible to win 1 prize in the Contest.
Each entry must meet the requirements as specified below in Section 4. Any nonconforming entries will be disqualified. Altered, defaced, mutilated, illegible, or incomplete entry forms are not eligible and will result in disqualification of entry.
Entries that contain nudity or content that is pornographic in nature, violent, lewd, or sexually explicit, in Sponsor's sole discretion, will be disqualified.
More information HERE
Application Process
Apply online through the given link.