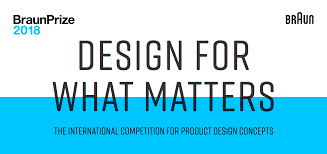 The BraunPrize 2018
APPLY HERE
DEADLINE: 20th APRIL 2018
DESCRIPTION
Design for what matters
The BraunPrize 2018 challenges creative minds to envision design concepts that matter.Our world is becoming increasingly complex – our focus should be on what is essential, on creating truly better solutions and experiences. By taking on global problems or simply improving the quality of individual lives, we want to encourage innovation that can be virtual or physical, scientific or technical, or that changes our behavior for the better. Awards will go to exceptional ideas and product design concepts – two or three dimensional, including interactive – that offer progress and improvement, that are significant, substantial, and meaningful: design for what matters.
PRIZE
The total prize money for both categories is $75,000 USD. In addition to the cash prizes, all award winners will receive a trophy and a certificate.The best entries will also be presented in the BraunPrize exhibition and made public in the international press and online.
ENTRY CONDITION
The BraunPrize competition is pleased to welcome all global submissions from entrants that are 18 years of age or older.
Entries will be separated into two categories and judged individually:
Student: product concepts from students who are still studying or (for recent graduates) which were created during the time of study
Young Talent: product concepts from young designers who have graduated within the last 5 years
Entries must be product design and/or product interaction concepts that are not yet on the market or in production.
The focus of the BraunPrize is on product design. Software, interaction or media design will be considered as an integral part of an overall product concept (hardware and software).
There is no fee for participation. Submissions from all countries will be considered. Several projects can be submitted per person. However, every concept can only be registered once.
Individual or team participations are accepted and there is no limit in group size. Please choose one contact person and fill in that person's data in the registration form. The names of all other team members must be listed in the respective field and all team members will receive equal recognition.
All P&G and Braun employees or their relatives are excluded from the competition. Also, no relative of a  jury member (design firm, colleague, team or family member, etc.) is permitted to enter. Any involvement will result in automatic disqualification from the competition.
By submitting a product concept to the BraunPrize competition, participants agree to multiple reproduction and promotional publication of product material associated with that person's data. The payment of the prize money gives P&G the right of usage for all nominated projects* with no time limit, starting from the day the jury has agreed on the competition winners.
*Nominated projects are defined as: Sustainability Awards, Finalists (subsequently Gold-Silver-Bronze awards), Special Mentions and any other outstanding exhibition projects from the categories Students and Young Talents.
Any material relating to the submission may be used for the purpose of BraunPrize promotional work, i.e., the BraunPrize exhibition (print and online), catalogue, BraunPrize websites, press releases, and media toolkits. P&G may not alter or amend the material without the written agreement of the designer. Participants that do not win a prize hold the right to refuse exhibition or publication of their work.
ELIGIBLE COUNTRIES
UAE, Algeria, Morocco, Tunisia, Libya, Egypt, Comoros, Kuwait, Lebanon, Mauritania, Oman, Palestine, Qatar, Saudi Arabia, Sudan, Somalia, Syria, Djibouti, Bahrain, Yemen
For more information click
here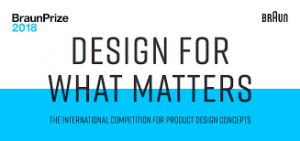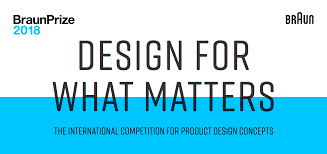 Application Process
Apply online through the given link.