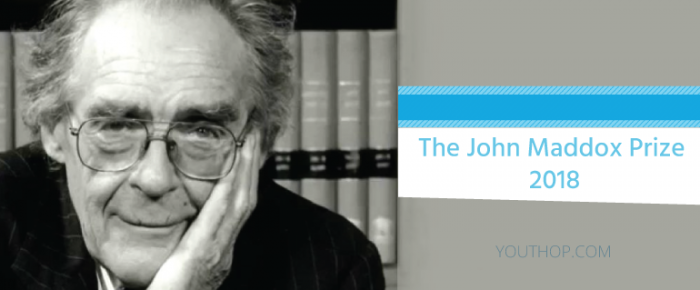 The John Maddox Prize 2018
Apply here
Deadline: 13 August 2018
Description:
Nominations for the John Maddox Prize 2018 are now open. The prize recognizes the work of individuals who promote sound science and evidence on a matter of public interest, facing difficulty or hostility in doing so.
The award is presented each year at a reception in November.
Benefits:
-£3000 prize money
-Announcement getting published in Nature
Eligibility:
The nominator should normally be an individual who is familiar with the work of the candidate but self-nomination will be considered in exceptional circumstances. This is a global prize: people from any country and in any field can be nominated.
Individuals can be nominated for any kind of public activity in any of the following areas:
-Addressing misleading information about scientific issue (including social science and medicine).
-Bringing sound evidence to bear in a public or policy debate.
-Helping people to make sense of a complex scientific issue
Evaluation:
Candidates will be judged on the strength of their nomination based on the below criteria:
-How clearly the individual communicated good science, despite challenges.
-The nature of the challenge(s) faced by the individual.
-How well they placed the evidence in the wider debate and engaged others.
-Their level of influence on the public debate.
For more information, click here
Application Process
Apply online through the given link.