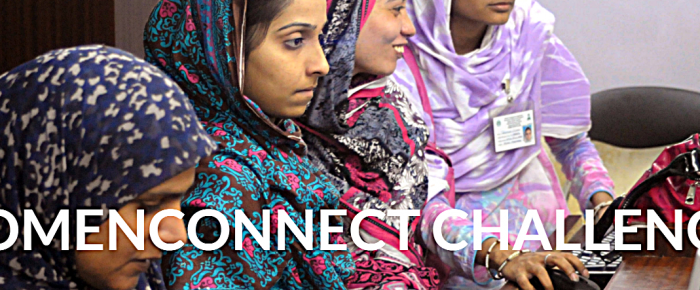 USAID WOMENCONNECT Challenge 2018
Apply HERE
Deadline: May 4, 2018.
Description: IMPROVING WOMEN'S PARTICIPATION IN EVERYDAY LIFE BY MEANINGFULLY CHANGING THE WAYS WOMEN AND GIRLS ACCESS AND USE TECHNOLOGY.
The WomenConnect Challenge is a global call for solutions to improve women's participation in everyday life by meaningfully changing the ways women and girls access and use technology. USAID seeks to identify and accelerate comprehensive solutions that empower women and girls to access and use digital technology to drive positive health, education, and livelihood outcomes for themselves and their families.
The main themes:
Women's access to technology is not an end, but a means to help address development objectives.
There is a need to build evidence for approaches that are working.
The scope of the digital gender divide requires local solutions that take into account complex cultural and socioeconomic factors.
Eligibility:
Applicants must meet the following minimum requirements to participate in the WomenConnect Challenge:
The WomenConnect Challenge is open to registered US or non-US organizations regardless of type (for example: for profit, not-for- profit, civic groups and others). For-profit Applicants must be willing to forego profit per 22 CFR 226.81. Individuals are eligible to apply, though they are required to demonstrate existing partnerships with established organizations (supporting documentation is required and an organization must agree to be the grant signatory).

The following are not eligible:

Government entities
Individuals without demonstrated partnerships with organizations

The WomenConnect Challenge is open to all organizations regardless of size. We encourage applications from small and medium enterprises (SMEs) from around the world.
All Applicants must use WomenConnect funds to implement a solution in a country with USAID presence. Applicants must either already have a presence in that country or must demonstrate they have a local partner (supporting partnership documentation is required).
Solutions must directly relate to the WomenConnect Challenge goals and funding requirements.
Applications must be submitted in English.
WomenConnect encourages proposals from:
Diverse groups that have clear, strategic, collaborative models to tackle the complexity of the digital gender divide
Private sector actors, entrepreneurs, and organizations with market-based solutions and/or clear plans for sustainability beyond the point of award
Proposals that promote more gender equitable access to and usage of existing digital infrastructure (as opposed to solutions that necessitate new infrastructure)
Organizations with women in leadership positions
Application Process
Apply online through the given link.