Awards
DATE :
30/04/2018
REGION :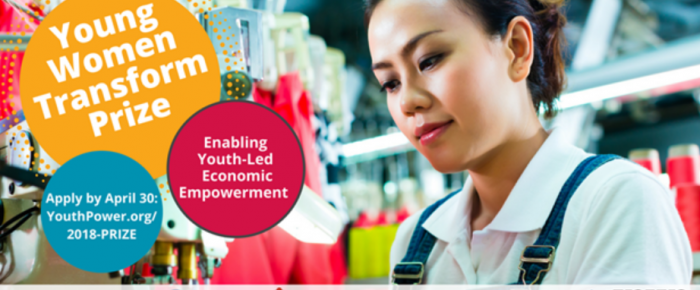 Young Women Transform Prize ENABLING YOUTH-LED ECONOMIC EMPOWERMENT
Apply HERE
The application platform only opens on April 11, but you can already the Request for Application above.
Deadline: April 30, 2018.
Description:
USAID is committed to empowering young women and unlocking their potential to transform their communities and the world.  Through the Young Women Transform Prize, USAID will support youth in developing countries to develop their own solutions to advance the economic empowerment of young women in their communities.
Prizes of $15,000 to $35,000 will be awarded to grassroots youth-led or youth-serving organizations in low- or middle-income countries to address long-standing barriers to young women's employment.
Two types of prizes will be awarded:
 Creation Prize of up to $35,000 each: to support the development and implementation of activities with the potential to broaden young women's access to, and choice over, employment and economic security, with a focus on collecting and disseminating learning; and
 Recognition Prize of $15,000 each: to recognize innovative strategies that have improved young women's economic opportunities, and collect and share learning from that innovation.
Both types of prizes will focus on collecting and sharing learning, and on capturing new evidence and approaches to improve young women's economic opportunities.
More information HERE
Application Process
Apply online through the given link.