Confrence
DATE :
25 April 2018
REGION :
United Arab Emirates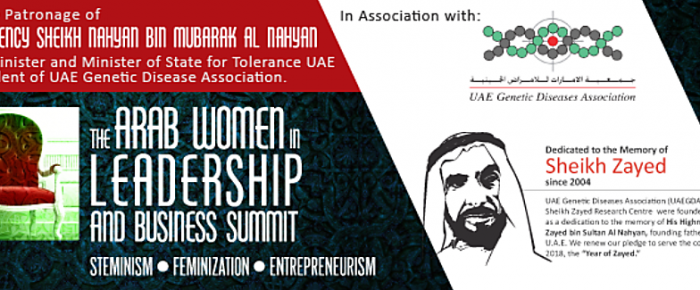 Arab Women in Leadership and Business Conference 2018
Register HERE
The 4th edition of The Arab Women in Leadership and Business Summit in Dubai is announced under the patronage of His Highness Sheikh Nahyan bin Mubarak Al Nahyan, Cabinet Member and Minister of State for Tolerance the President of UAE Genetic Diseases Association, with a dedication to the year of Zayed.
The two day summit organised in association with UAE Genetic Diseases Association, is dedicated to the theme of "year of Zayed" and contribute to the values of diversity, Women in STEM (Science, technology, Engineering and Maths) and Entrepreneurship.
More than 35 unparalleled women leaders will be presenting in the two day conference in Dubai which is due to take place in Dubai, UAE on the 25-26th of April 2018. The Summit weaved under the theme of "Ain't No Stoppin' Us Now" with spotlight areas being STEMinism, Feminization and Entrepreneurism. In support of women advancement and gender equality, Deloitte Middle East is pleased to be the Conference's "Women Empowerment Partner".
Building on the popularity and credibility the last 3 years, the Summit in 2018 will bring together an exclusive group of over 200 leaders from across the region for two days of strategic dialogue and networking.
Her Excellency Dr. Maryam Matar, Founder and Chairman of UAE Genetic Disease Association said: Identifying opportunities for women in the field of leadership, and specifically in scientific fields is one of the core pillar of UAE GDA. Since 2004, we have consistently work towards developing youth and women in UAE and this summit will help us fulfil our objective, as this summit gives several opportunities for learning and interacting with eminent women leaders to the women in our country.
Application Process
Apply online through the given link.