Confrence
DATE :
5 March 2018
REGION :
Lebanon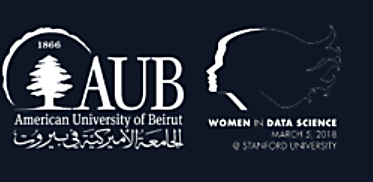 AUB Stanford Women in Data Science Conference 2018
Register HERE
Description:
More than just a conference, AUBxStanford WiDS is a partnership with the Stanford Institute for Computational and Mathematical Engineering led by AUB for the Arab MENA region.
The AUBxStanford Women in Data Science (WiDS) Initiative aims to inspire and educate data scientists, regardless of gender, and support Arab women in the field. This one-day technical conference provides an opportunity to hear about the latest data science research in different fields, learn how leading-edge companies are leveraging data science for success, and connect with potential mentors, collaborators, and others in the field. The event is directed towards business practitioners, researchers, students.
AUBxStanford WiDS creates a platform for data scientists in the Arab Middle East to:
Promote a higher representation of women in data science.
Expose the latest data science research and practices in the Arab Middle East.
Exchange ideas, encourage mentorship, and interdisciplinary collaboration.
Connect regional researchers and practitioners to pioneering global data science networks.
More information HERE
Application Process
Apply online through the given link.