Confrence
DATE :
11 March 2018
REGION :
United Arab Emirates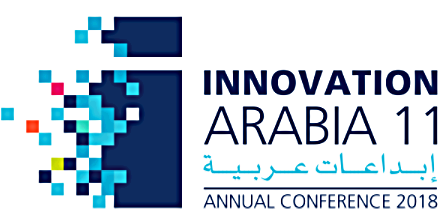 Innovation Arabia 11 Conference 2018 Dubai
Register HERE or HERE(with prices)
Description:
Held under the patronage of His Highness Sheikh Hamdan Bin Mohammed Bin Rashid Al Maktoum, Crown Prince of Dubai and President of Hamdan Bin Mohammed Smart University (HBMSU), Innovation Arabia 11 addresses contemporary issues and explores the enormous potential of the Arab nations to accelerate the pace of socio-economic growth and development. The conference also helps    spread a culture of innovation throughout the Arab World.
In its eleventh edition, Innovation Arabia, the Middle East's pioneering conference is proud to announce Innovate, Disrupt and Transform as this year's theme.
The theme has great relevance to all economic sectors including education, healthcare, government services, manufacturing, SMEs and family businesses. Innovation is critical for the survival and growth of all these sectors.
Innovation Arabia 11 will, once again, provide the ideal platform to exchange leading-edge ideas, discuss challenges and explore solutions for the development of sustainable economies in the Arab World through innovation.
A distinguishing feature of the conference is that it hosts 4 parallel tracks under its auspices as follows:
Business and Quality Management
Islamic Banking and Finance
Smart Learning
Health and Environment
Venue: Congress Location: Dubai International Exhibition and Convention Center
Travel: For registered delegates only, INDEX Hospitality provides special discounted rates for accommodation, hotel booking, flight inquires, visa assistance, city tours and much more.
Reservations must be made directly with INDEX Hospitality. These rates are offered on a limited number of rooms, subject to availability – so book early.
To make your reservations, Kindly Contact:
Ms. Vineeth Cabral
Hospitality Operations Manager – INDEX Hospitality
Telephone: +971 4 520 8921
Email: vineeth.cabral@index.ae
Application Process
Apply online through the given link.