Confrence
DATE :
10 November 2018
REGION :
Rwanda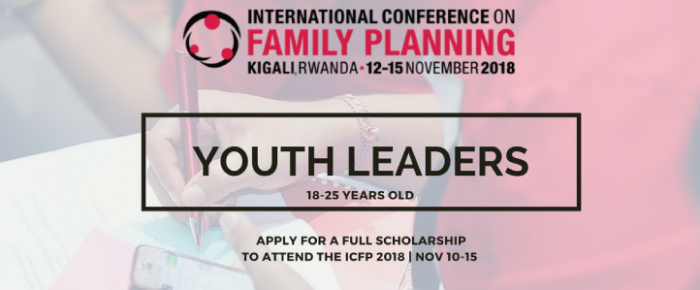 International Conference Family Planning in Africa 2018

Apply here
Deadline: 21st May 2018
Description:
If you are between the ages of 18 and 25 and working or studying in the area of sexual and reproductive health/family planning, then apply to attend the International Conference for Family Planning in Rwanda this November. Full scholarships available.
In the spirit of using digital communications to spread the word about family planning, the 2018 ICFP will be accepting applications for youth speakers through video submissions. It is encouraged that the applications talk about family planning in relation to the conference theme – Investing for a Lifetime of Returns – or make a creative video related to the theme. The conference theme speaks to the various returns on investment family planning provides, from education and empowerment to economic growth and environmental health as well as quality of life and wellbeing.
Benefits:
-Full round trip to Kigali, Rwanda from November 10-15 including accommodation, per diem, and conference participation
-Meeting a network of youth from around the world and learn from each other's experiences in family planning research and advocacy
-Attend a carefully thought out pre-conference where there will be dozens of sessions for capacity building and networking
-Be exposed to the world's greatest researchers and leaders in this area to learn best practices.
Eligibility:
-Must be between the ages of 18 and 25
-Must be between 18-25 years old
-Must be able to speak English and/or French
-Must be involved in family planning/SRHR in some capacity
-Must have a drive to change the world through family planning advocacy
Application Process
Apply online through the given link.