Confrence
DATE :

REGION :
United Kingdom

Scholarships for One Young World 2019 in London (22 – 25 October)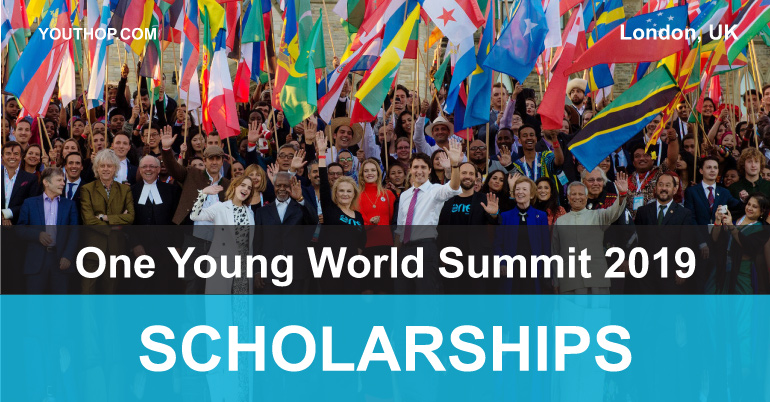 The annual One Young World Summit brings together the most talented young leaders from global and national companies, NGOs, universities and other forward-thinking organisations. Delegates meet and make lasting connections with peers from almost every industry, sector and country. No youth led movement outside of the Olympic Games represents as many nationalities as the One Young World Summit.
During the Summit, which will be held from October 22nd to 25th, delegates will debate, formulate and share innovative solutions to help achieve the Sustainable Development Goals. They hear and are heard by world leaders acting as One Young World Counsellors. Past Counsellors include Justin Trudeau, Archbishop Emeritus Desmond Tutu, Mary Robinson, Bob Geldof, Kofi Annan, Sir Richard Branson, Emma Watson, Professor Muhammad Yunus, and Meghan Markle.
The One Young World Summit 2019 sees the global forum for young leaders return 'home' for the first time since the inaugural Summit in 2010. With over 300 languages to be heard on its bustling streets, London is one of the most diverse places in the world. The city is home to nearly 9 million people, one of the world's biggest financial centres and countless historic sites such as Buckingham Palace and Big Ben. A city where the past and future merge, London provides the ideal backdrop for young leaders from more than 190 countries to work together to accelerate positive change.
If you are a young leader with a passion for global issues and a track record of making a significant impact in your community, country or organisation, then you could be part of the One Young World Summit 2019.
Young leaders are selected to attend the Summit via competitive selection processes, based on proven leadership ability and impact. Building a diverse international community is One Young World's priority with a wide range of scholarship schemes available.
This year, OYW has launched the flagship 'Leading Scholarships' which for the first time ever are open to every country in the world. If you are a young leader from one of these 6 regions, apply now:
1. Leading Europe
2. Leading Asia
3. Leading The Americas
4. Leading The Middle East
5. Leading Africa
6. Leading The Pacific
One Young World is looking to bring you to the next annual Summit in these 6 regions.
Eligibility
– Between the ages of 18 – 30
– Have an evidenced commitment to delivering positive change
– Demonstrate capacity for leadership
– Are addressing key local and/or global issues in your work
– Have a track record of generating impactful and innovative ideas
– Are a national (passport holding citizen) of one of the countries listed in the given six regions
https://www.oneyoungworld.com/attend-summit-2019
Application Process
Apply online through the given link.