Tech Women Inspire Roundtable
May 4 @ 7:00 pm

-

9:00 pm

CEST

free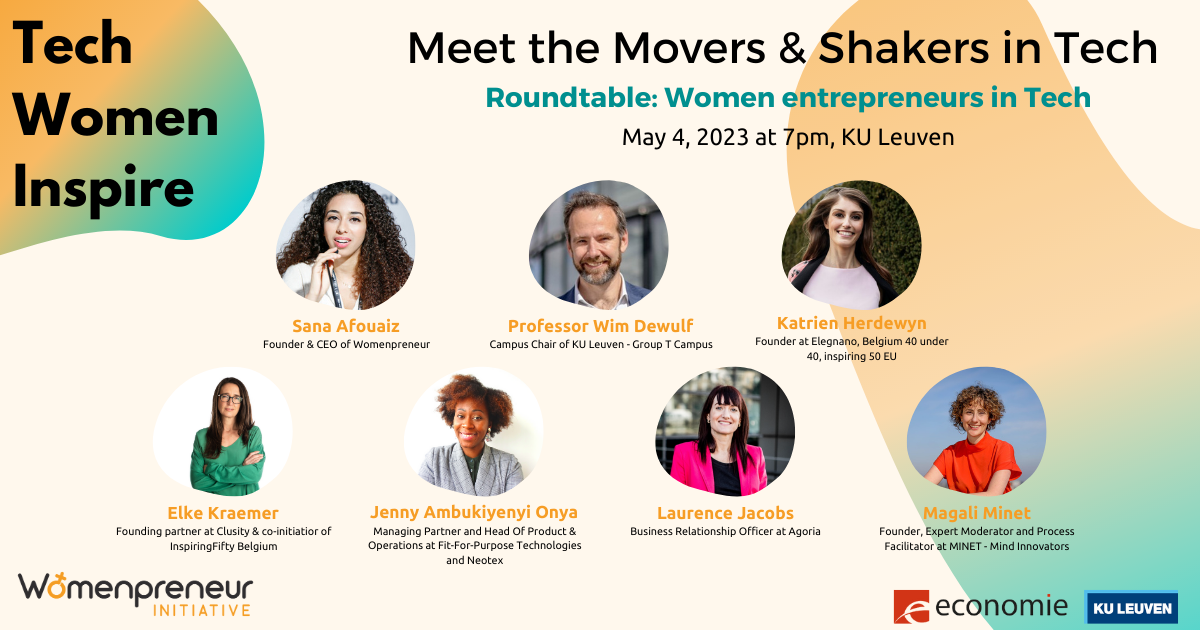 Womenpreneur and KU Leuven University are pleased to invite to join "Tech Women Inspire : Roundtable", we will hear from the women CEO who run tech compagnies, they will share about their professional journeys, what is missing and what is needed to foster women's participation in tech.
As the digital world and associated professions become increasingly important in daily life and the country's economy, the digital sector in Belgium remains dominated by men. Among digital experts, only 18% are women in Belgium. The latest figures from Statbel also illustrate the under-representation of women in digital and STEM professions: 19% of computer scientists are women, and ICT managers account for only 16% of women. This under-representation of women is accompanied by an over-representation of them in less lucrative sectors, particularly in the field of personal assistance. Moreover, even within digital professions, this same gender division is observed, with women being predominantly present in the fields of culture, art, and media. This is the case, for example, with multimedia designers and web designers, who have some of the highest rates of female population, with 47% of women. In contrast, only 8% of digital start-ups in Brussels were created by women in 2018. This was half the European average, which was then 15%.
This absence of women in digital professions is all the more worrying as it is a growing sector, and it is with them that the economy of the future will be played out. Already in 2017, there was an explosion in employment thanks to digital technology, with the creation of 140,000 jobs between 2016 and 2018 predicted thanks to new technologies. The Covid-19 pandemic has highlighted and accelerated the role of Information and Communication Technologies in the daily life and economy of Belgium. Women are therefore not only deprived of economic opportunities, but also of the possibility of building the economic landscape of tomorrow. But women are not the only losers of this lack of inclusion: Belgian companies and the economy are also deprived of real assets. Several studies show that the inclusion of women in the digital economy and digital entrepreneurship is a growth factor. For example, a study by the Boston Consulting Group shows that venture capital remuneration increases by 12% when raised by women entrepreneurs. The exclusion of women from digital professions therefore comes at the expense of the whole of society and the Belgian economy.
Keynote speakers : 
Sana Afouaiz – Founder & Director of Womenpreneur
Professor Wim Dewulf – Campus Chair of KU Leuven – Group T Campus
Speakers:
Elke Kraemer – Founding partner at Clusity
Jenny Ambukiyenyi Onya – Managing Partner and Head Of Product & Operations at Fit-For-Purpose Technologies and Neotex
Laurence Jacobs – Business Relationship Officer at Agoria
Wendy Verheyden – Marketing & Communication Manager at VINCI Energies Belgium
Katrien Herdewyn – Founder at Elegnano, Belgium 40 under 40, inspiring 50 EU
Registration : here !