Funding
DATE :
12/12/2018
REGION :
United Arab Emirates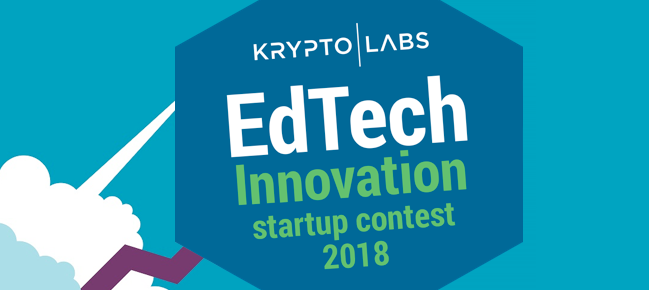 EdTech Innovation Start-up Contest 2018
Krypto Labs  has set a global challenge to cast light on the importance of technology in the context of education with a focus on leveraging the power of Artificial Intelligence to positively impact existing educational ecosystems.
EdTech 2018 will be open to entrepreneurs, startups, R&Ds, university students, and companies from around the world. Applicants should offer an innovative, inventive, or disruptive product/service, which is original, and has scalable commercial applications.
We are interested in applications across different spheres including K-12, High-Ed, Vocational, Lifelong Learning, among others. Applications should impact direct or indirect learners.
EdTech 2018 Entrepreneur Hero (winner of the contest) will receive US$150,000. EdTech 2018 category star (winner of each of the 6 categories) will each receive US$20,000.
Categories
– Curriculum Applications
– Universal Access to Classrooms
– Data Applications
– Lifelong Learning Applications
– Supplemental Applications
– Behavioural Analytics Applications
Timeline
Online application can be submitted between August 15th, 2018 and October 14th, 2018. Submissions will be reviewed by Krypto Labs board of experts, who will select a maximum of 20 shortlisted entries by November 1st, 2018. From these shortlisted businesses, a jury of global experts in Education technology will select six finalists who will be invited to pitch to EdTech 2018 jury members on the final day event, which will take place in Abu Dhabi on December 12th, 2018.
Prizes
– Entrepreneur Hero (Contest Winner) will receive US$150,000
– Category Star (Each Category Winner) will receive US$120,000 in total
| | |
| --- | --- |
| 1. Curriculum applications star | US$20,000 |
| 2. Universal access to classrooms star | US$20,000 |
| 3. Data applications star | US$20,000 |
| 4. Lifelong learning application star | US$20,000 |
| 5. Supplemental applications star | US$20,000 |
| 6. Behavioural analytics applications star | US$20,000 |
All 6 Semifinalist will receive:
– An opportunity to grow their business networks through Krypto Labs
– Increased visibility for their business
– A round-trip flight for up to 2 team members from home country to Abu Dhabi
– Krypto Labs EdTech 2018 is open to both individual innovators and team-based projects or companies from anywhere in the world (subject to certain restrictions – see our terms for further details).
Criteria
– It must be categorised as part of the EdTech industry.
– It must have Artificial Intelligence on the forefront or as part of the application.
– Fall within on elf the listed categories.
– It should impact learning or enable better management of the education process.
– It can disrupt or supplement current education settings or ecosystems.
– It must be for-profit.
– It must have commercial applications.
– It must be inventive, innovative or disruptive.
– The business proposal must be original work and applicants must hold all applicable rights.
– It must be submitted in English.
– A team of up to three people, or the individual representing the idea or start–up, must be available to pitch the project in person on December 12, 2018 at Krypto Labs Abu Dhabi.
Read more here.
Apply here before October 14, 2018.
Application Process
Apply online through the given link.