Funding
DATE :
20/10/2020
REGION :
United Arab Emirates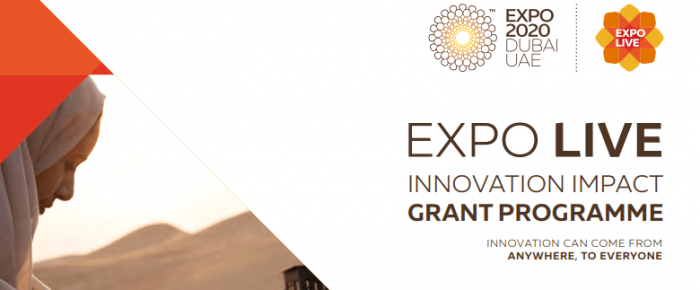 EXPO 2020 DUBAI Innovation Impact Grant Programme for Social Entrepreneurs/SMEs
Expo Live's flagship Innovation Impact Grant Programme is an innovation and partnership programme launched by Expo 2020 Dubai to fund, accelerate, and promote creative solutions that improve lives while preserving our planet. Expo Live provides funding, business support and exposure to innovative solutions that are already benefiting communities or the environment – or both, anywhere in the world.
Expo Live will harness the convening power of a World Expo to demonstrate how innovations coming from all places and people can advance the pace of progress and inspire a more inclusive and prosperous future. Expo Live will combine grant programmes, innovation challenges and knowledge- sharing events to promote collaboration and to provide technical assistance and exposure to the innovators in the run-up to Expo 2020 Dubai.
The programme aims to fund novel and innovative solutions that encapsulate the spirit of Expo 2020 Dubai's overall theme: "Connecting Minds, Creating the Future", and whose solutions generate social value and are in line with Expo 2020 Dubai's sub-themes of Opportunity, Mobility and Sustainability.
Expo 2020 Dubai will be the first World Expo in the Middle East, Africa, and South Asia region (MEASA); it will convene the global community and inspire people to work together in new ways in order to create a better future. From October 2020 to April 2021, Expo 2020 Dubai will bring together hundreds of countries, innovators, international organisations, companies, entrepreneurs, NGOs, universities, and millions of people to celebrate human ingenuity.
Rewards and other benefits
Expo Live's flagship Innovation Impact Grant Programme will award injection funds up to USD 100,000 to support the growth of social enterprises, startups and grassroots projects from around the world whose solutions generate social value and are in line with Expo 2020 Dubai's subthemes of Opportunity, Mobility and Sustainability.
Beyond grant funding, successful grant recipients will also have access to networking and partnership opportunities, marketing and communications exposure, as well as additional funding, enabling their solutions to be showcased during Expo 2020 Dubai.
The programme will also build partnerships with local business incubators, accelerators, mentors and investors in order to strengthen and promote active and productive ecosystems.
Criteria
The programme backs enterprises that offer creative solutions to pressing challenges that impact people's lives, or help preserve the world – or both. The Innovation Impact Grant Programme looks for projects that need support to reach their full potential. This is by providing much-needed funding, business guidance and promotion to both developed and less developed markets. This builds a platform and opportunity for knowledge exchange and co-creation.
The Grant Programme is an inclusive programme open to problem solvers from around the world ranging from social entrepreneurs, SMEs, non-for-profit organisations, and government related entities.
Applicants will be able to submit one application per grant application cycle.
Deadline: December 2, 2018.
Read more here.
Apply here.
Application Process
Apply online through the given link.