General Fund for Artistic and Cultural Mobility in the Euro-MENA region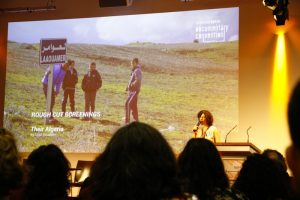 On 1 January 2018, the Roberto Cimetta Fund launched the General Fund for Artistic and Cultural Mobility in the Euro-MENA region.
The General Fund will be open to all requests for travel grants, for any travel destination, artistic discipline or direction of mobility.
Artists and cultural operators living and working in Europe, North Africa and the Middle East are eligible to apply. Priority will be given to mobility from the South and the East. Applicants of all nationalities, ages and professions (performers, creators, teachers, cultural organisers, administrators, entrepreneurs, project leaders) can apply.
The objective of the travel must be one of the following:
Prepare a project;
Take part in a residency;
Take part in a meeting of artists and professionals with the aim of networking or encouraging links between cultural, artistic and developmental actors in the Mediterranean;
Artistic training (master classes, workshops) or professional training (cultural policy, cultural management) either as a trainee or as a teacher;
Take part in debates, conferences and seminars.
Applicants must follow the general criteria of the Roberto Cimetta Fund, which are as follows:
The objective of the trip must directly or indirectly demonstrate potential for a constructive and long-term impact on the arts sector in the applicant's country. This means that the travel must contribute to the applicant's own capacity building, which can in turn be shared in a "networking" fashion that will benefit connecting artists and operators so as to maintain, renew and develop contemporary arts.
Travel can take place as soon as the call opens but in this case the applicant runs the risk of paying for travel without a guarantee of the application's success.
The mobility grants are aimed at applicants who are themselves unable to find the financial resources to travel.
Applications must be made by individuals, not organisations. Only three members of a group can apply for a grant for the same project.
A grant recipient can only reapply twice.
Applicants must choose the least expensive form of transport and can only apply for one international return travel ticket and visa costs (local transport is not reimbursed).
The deadline for applications is 31 January 2019.
To apply, please visit the Roberto Cimetta Fund's website and fill in the contact form available here. The office of the Fund will then send you the appropriate form to fill in online.
For more information about the mobility programme and its travel grants, please click here
Application Process
Apply online through the given link.