Funding
DATE :
13/05/2019
REGION :
France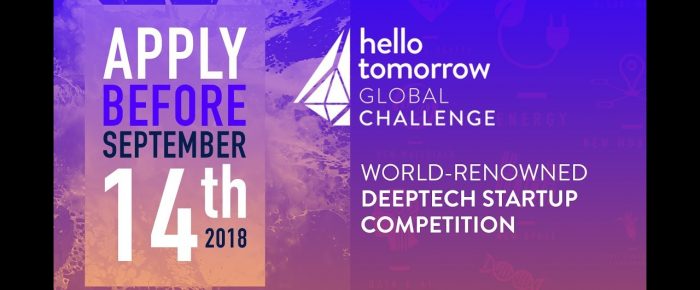 Hello Tomorrow Global Challenge 2018
The 5th edition of the Hello Tomorrow Global Challenge is now open.
The Hello Tomorrow Challenge is a global startup competition for promising early-stage projects & startups harnessing science & technology to solve the world's toughest challenges. The Challenge gives scientists and deeptech entrepreneurs around the globe a platform for their research and projects, providing participants with equity-free funding, global visibility and connections with key players in the deeptech innovation network and other fellow entrepreneurs.
Top projects from around the world will have a chance to attend the annual Hello Tomorrow Summit (5th edition), on March 14th-15th 2019 in Paris.
Benefits
– One €100k grand prize
for the best early-stage startup – equity-free, no strings attached Eleven €15k prizes
for the best early-stage startup in each track – equity free, no strings attached
– Pitch in front of a select audience of 400 industry experts and investors at the Hello Tomorrow Global Summit
for the 70 startups selected as finalists, you will pitch in the now famous Hello Tomorrow Challenge stage
– Exclusive access to the Hello Tomorrow Investor Day – March 13th 2019
for the top 500 startups – a full day of one-on-one meetings with 200 leading international deeptech investors – Seed & Series A
– Exclusive access to the Hello Tomorrow Global Summit – March 14th & 15th 2019
for the top 500 startups – meetings with industry leaders facilitated by hello tomorrow, opportunity to showcase your product, and more
– Meetings & interviews with international media
– Be endorsed as one of the top 500 deeptech startups worldwide
Eligibility criteria
You are eligible if:
– You are based anywhere in the world.
Your activity is based on a new technology, a scientific discovery, a complex engineering process or an innovative application of an existing technology
– You have a proof of concept, a prototype, a scientific validation of your claim, or are in the process of producing one.
– Your team is made up of two persons or more. Your project is not part of a larger company.
– Your project/startup is in early-stage (up to series A)
– You foresee an economically viable application on the market within 15 years.
– Your project has the potential to have a strong impact on the industry you target, and on society or the environment in general. In other words, you are solving an industrial, societal or environmental challenge
12 TRACKS
You can choose your main industry or technology focus among the following:
AERONAUTICS – DATA & AI – DIGITAL HEALTH – ENERGY – FOOD, AGRICULTURE & ENVIRONMENT – GLOBAL HEALTH – INDUSTRIAL BIOTECH – INDUSTRY 4.0 – NEW MATERIALS – NEW MOBILITY – NEW SPACE – WELLBEING
Judging criteria
Innovation: The company must develop a product/service based on a new technology or an innovative application of an existing technology.
Potential impact: The company must have the potential to make a substantial long-term impact on business and/or society.
Leadership: The company must have visionary leadership with the capabilities to drive the company towards success.
Viability: The company should have well-formulated plans for developments and goals and a sustainable business model.
LOCAL FINAL
To boost Asian, African and South American deeptech ecosystems, local finals will happen ahead of the Global Summit. If you're based in one of the countries below, by applying to the Global Challenge, you also get the chance to connect with local coporates and investors and get a fast-track to the Global Summit! But don't worry, if you're not in one of these regions, it won't affect your chances of having the full Global Challenge experience!
The following countries will be hosting Local Finals: Japan, Turkey, Singapore/Southeast Asia, Ghana/Africa and Brazil.
Top 500 startups, which are invited to the Summit will be notified on October 24th. The finalist will be announced January 8th.
The Grand Finals will be held in Paris on March 13-15th during the Hello Tomorrow Global Summit.
Applications close on September 14th.
Apply here.
More info available here.
Application Process
Apply online through the given link.