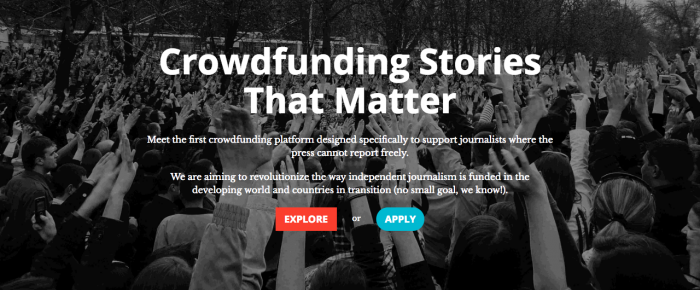 Press Start Grants for Journalists
Apply Here
Description:
Press Start welcomes applications from journalists working in repressive countries who seek financial aid to fund a new investigative campaign in the fields of politics, human rights, social issues (including gender and minority), health, and the environment. Applicants must have at least 3 years of experience in domestic media working on subjects of social importance and must include their story ideas in their applications with a budget proposal of no more than $2,000.
Applications:
Preferred in English but can accept Russian and French. All must include the following:
-a CV
-links to three samples of your work
-an essay of introduction no more than 1 ½ single-spaced pages (for examples, see the journalists' profiles on the website).
-a detailed proposal of one-half to one single-spaced page for a story or series.
-a budget proposal broken down by major expense categories, such as travel costs, interpreters, and equipment.
-two letters of recommendation from people you have worked with
-a letter from a commissioning editor at the outlet where you intend to place your work stating his or her interest in publishing/posting/showing the piece(s).
Application Process
Apply online through the given link.