Funding
DATE :

REGION :
Japan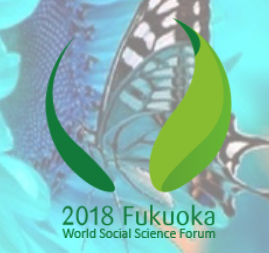 Travel Grants to Attend the World Social Science Forum
Submit Papers HERE
Call for Scholarships HERE
Deadline: March 17, 2018.
Description:
The 4th World Social Science Forum will take place in Fukuoka, Japan, from 25 to 28 September 2018. The theme of WSSF 2018 is "Security and Equality for Sustainable Futures". The series of WSS Forums is one of the most prestigious scientific activities of the international Social Science Council (ISSC) and this 4th will be convened for the first time in Asia.
The World Social Science Forum 2018 now invites authors to submit a paper abstract for presentation at the Forum. There are two types of presentations: Oral (Specific Panels or Topical Sessions) and Poster.
Please note that it is no longer possible to submit proposals of sessions; The Call for Sessions closed on 30, September, 2017.
Oral Presentation:
Accepted authors will make an individual contribution as part of an established session. Certain sessions are looking for presenters. The list of panels open for authors can be found under Parallel SessionⅡ(Open for Papers). You are to choose a session that your paper is most appropriate for. You may indicate up to two sessions upon applying. Presenters are expected to talk about 15 and no longer than 20 minutes.
We are also inviting paper abstracts on Subtheme 2: Cybersecurity, cyberattacks, hybrid warfare.
On the application online system, please choose "Subtheme 2: Cybersecurity, cyberattacks, hybrid warfare", instead of Specific Panel's number.
Topical sessions:
Topical Sessions involve four to five presenters, each providing an initial input of a maximum of 10 minutes, followed by a discussion between the presenters and the audience. Topical Sessions are expected to be interactive and engaging. The list of Topical Sessions indicates the topics for which individual abstracts are welcomed. Proposals of abstracts on other topics will not be considered.
Poster presentation:
Paper abstracts for poster presentation are invited on all the Forum Sub-themes.
Accepted authors will make a poster based on the adopted paper and bring in to the Forum. The posters will be displayed prominently in the venue. The program will allocate time for authors to present their poster and interact directly with the participants.
Upon applying, you are to choose a Forum Sub-theme that is applicable to your paper.
Scholarship:
In order to secure the voices of young researchers in this global event, the Forum organizers are putting together a WSSF Scholarship (travel grants) Fund for early career social scientists from low- or lower-middle income countries.
The WSSF2018 Scholarship for Early Career Social Scientists will cover:
economy return flight (to be booked by the WSSF Secretariat);
visa application expenses( if necessary);
5 nights' accommodation (JPY 10,300 /night);
daily allowance for meals etc. for 5 days(JPY 2,200/day) and
early registration fee.
Scholarship Eligibility:
The WSSF Scientific Program Committee will competitively select grantees. Candidates eligible to apply for support from the Fund are early career social scientists from a low- or lower-middle income country with a presentation accepted in the 2018 WSSF program. The grant is conditional to the acceptance of the presentation by the Scientific Program Committee, Candidates should:
preferably be under 40 years of age;
preferably be post-doc level (or equivalent experience) and
live and work on research in a low- or lower-middle income countries (according to the World Bank Data).
Scholarship Application Guidelines:
Download the application form and submit via the online Call for Papers. In case you have already been accepted as a speaker through the Call for Sessions, please email us at the address: wssf2018@kys.jtb.jpwith your application document attached.
You will also be asked to provide a short CV (2 pages maximum) and proof of employment for a research institution. You are required to set all the documents into one PDF file.
Application Process
Apply online through the given link.