Funding
DATE :
23/10/2018
REGION :
Kenya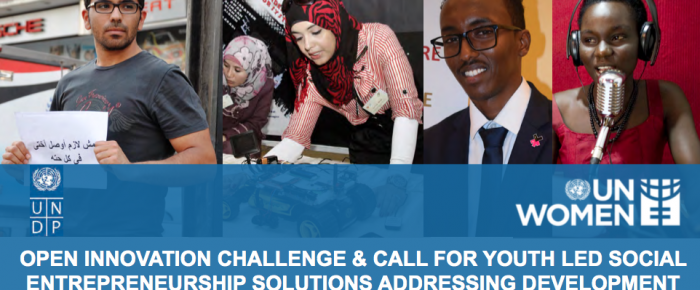 UN Women – Youth Led Social Entrepreneurship Solutions in Africa
UN Women partners with the United Nations Development Programme (UNDP) to conduct a challenge and award grant financing to help African youth entrepreneurs to develop and implement their innovative solutions that address SDG challenges in their communities, especially those targeted at bridging the gender gap in their countries.
They call on young people, especially women and girls, to present their innovations for SDG attainment in their communities and countries across Africa. Areas of particular relevance for this Challenge include youth access to sustainable livelihoods, youth engagement in governance / political participation, leadership and decision making, as well as youth action in preventing violence and other harmful practices against young women and girls.
Benefits
Winning entries will receive funding to develop, validate and scale innovative ideas. The grants will be awarded to entrepreneurs who would like to test their innovative solutions or grow existing ventures, as per the following categories:
• Idea Stage: 5,000 USD (seed grants)
• Growth Stage: 10,000 USD (scale grants)
The innovators selected for the funds will be acknowledged and presented with awards during the Africa Youth Conference in October 2018, which will be held on 23 – 25 October 2018 in Nairobi, Kenya. In selected cases, UNDP and Accenture will also provide business development support to winning innovators, including access to mentors and capacity building to implement their solutions.
From the applications, UN Women, in collaboration with UNDP, will also identify additional youth entrepreneurs that have particularly innovative solutions to also invite them to the Africa Youth Conference, where their ventures will be profiled and exhibited. So, even if you do not make it for the grants, you could still secure yourself a trip to Kenya to exchange with other youth innovators on your solutions to support the attainment of the SDGs.
Eligibility Criteria
1. African nationality, aged between 15 and 35 years;
2. Have an innovative, replicable, scalable idea that could transform your community, country or even Africa;
3. Desire to contribute towards the attainment of the SDGs and especially gender-related targets and indicators of SDG 1 (poverty), SDG 5 (gender equality and empowerment of women and girls), SDG 8 (decent employment) and SDG 9 (industry, innovation and infra- structure)
How to apply
To apply for the challenge, fill and submit the form that you can find here no later than September 18, 2018.
In addition to your written response, you are encouraged to make multimedia submissions.
Further information can be found here.
Application Process
Apply online through the given link.