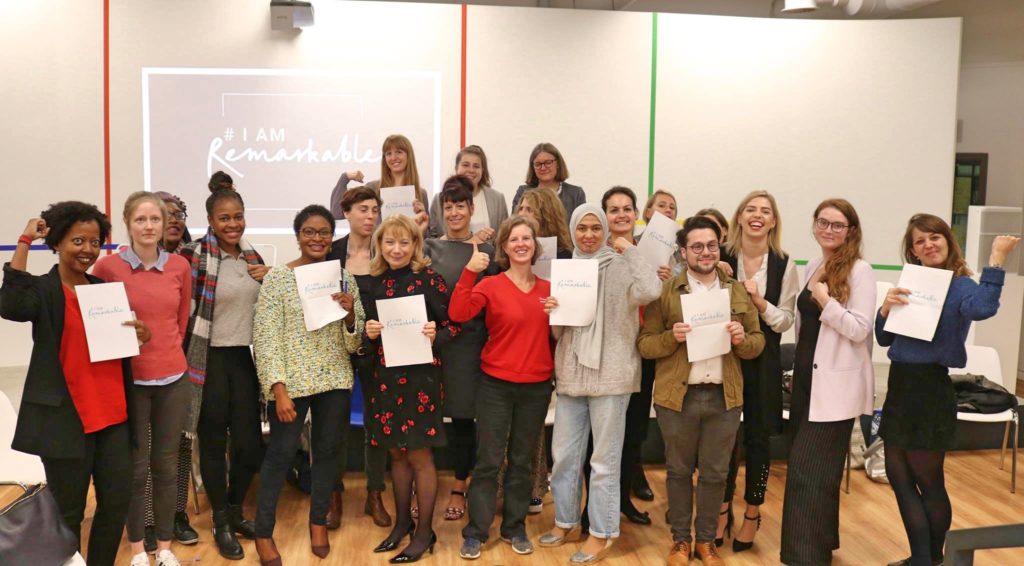 Version en Français: 
C'est quoi GenerationW program?
GenerationW est un accélérateur conçu pour aider les femmes pendant et après la crise du COVID 19 à intensifier leur engagement et leur participation à l'entrepreneuriat et à tous les aspects de la révolution technologique moderne.
Ce programme est d'une durée de six mois avec un total de 40 activités: formations, workshops, rencontres avec des CEOs et des experts, mentorat, et soutien virtuel, etc.
L'impact du programme GenerationW est de:
-Aider les femmes durant et après la crise COVID 19;
-Réduire les inégalités entre les sexes dans l'économie et la technologie;
-Fournir aux femmes les compétences nécessaires pour exploiter toute la puissance des nouvelles technologies et créer des opportunités économiques;
-Préparer les futures dirigeantes en dynamisant leur carrière et leur développement personnel.
Pourquoi candidater?
GenerationW est une opportunité de vous surpasser et de trouver une place en tant que femme dans le monde de l'entrepreneuriat et du leadership. Le programme vous donnera un accès gratuit à des rencontres, du networking, des business visites, des ateliers et des formations avec les meilleurs experts…Et en plus plusieurs certificats et attestations.
 L'objectif du programme est la promotion de l'économie du futur à Bruxelles en accompagnant les femmes dans leur carrière et leur développement personnel à travers le mentorat, l'accompagnement, les compétences techniques, les formations et l'accès aux réseaux.
Qui peut candidater?
Êtes-vous entrepreneure? Ou êtes-vous intéressée par l'entrepreneuriat? Vous cherchez à développer vos compétences pour intégrer le marché de travail? Avez-vous besoin de soutien dans votre projet professionnel et/ou dans votre progrès personnel? Si oui,ce programme est fait pour vous.
La seule condition est d'être basée à Bruxelles
 Sélection?
Candidature → 50 femmes sélectionnées → 40 activités → 6 mois → Impact
Quand?
Le programme commence le 20 Juin jusqu'au 20 Novembre 2020. Il faut postuler avant le 10 Juin
Activités?
Formations et ateliers
Séances avec des experts
Rencontres inspirantes
Mentorat
Accompagnement
Réseautages
Séances de coding
Et d'autres surprises 🙂
Langues? 
Généralement les activités seront en Français, mais aussi Flamand et Anglais
Comment?
Veuillez noter que nous prendrons toutes les mesures contre le coronavirus comme indiqué par le gouvernement pour assurer la sécurité de tous. Cela comprend que les activités seront en ligne jusqu'à le 15 Septembre via notre espace virtuel GenerationW Plateforme.
Frais?
C'est gratuit, postulez maintenant! Postulez avant le 10 Juin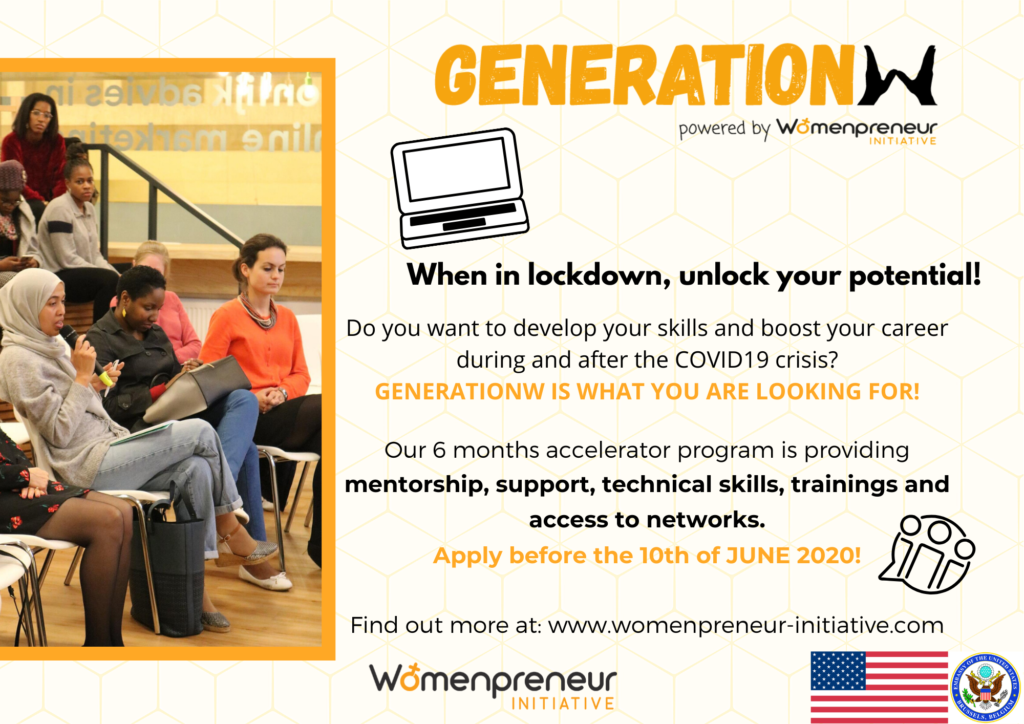 English Version 
About GenerationW:
GenerationW is a 6 months accelerator program designed to support women during and after the CODIV19 crisis to escalate their engagement and participation in entrepreneurship and all aspects of the modern technological revolution.
The impact of the program is to:
-Support women during and after the COVID19 crisis;
-Reduce gender inequalities in economy and tech by putting women in the heart of the sustainable development in Brussels;
-Providing women with skills to tap the full power of the new technologies and create economic opportunities;
-Preparing future female leaders by boosting their career and personal development.
What would you gain from the program?
GenerationW is the opportunity to grow and flourish in the world of entrepreneurship and leadership. The program will give you free access to meetings, networking, business visits, workshops and trainings with the best experts… And in addition several certificates and acknowledgements.
The aim of the program is to promote the economy of the future in Brussels by supporting women in their career and personal development through mentorship, support, technical skills, trainings and access to networks.
Selection Criteria?
Are you an entrepreneur? Or are you interested in entrepreneurship? Are you looking to develop your skills to enter the job market? Do you need support in your professional project and/or your personal progress? If yes, this program is for you.
The only criteria is to be based in Brussels.
Selection Process?
Application → 50 women selected → 40 activities → 6 months → Impact
When?
The program will start on 20 of June and finishes on 20 of November 2020! Apply before 10 of  June
Activities?
Workshops
Trainings
Sessions with experts
Inspiring talks
Mentoring
Networking
Coding sessions
And other surprises 🙂
Language? 
Mostly in French, but also in Flemish and English
How?
Please note that we shall take all the measures against Coronavirus as stated by the government to ensure the safety of everyone. This includes that our activities will take place online till 15th of September via our virtual space via GenerationW Platform.
Fees?
It's for free, you just have to apply! Before 10th of June 😉