Workshops
DATE :
11/12/2018
REGION :
Jordan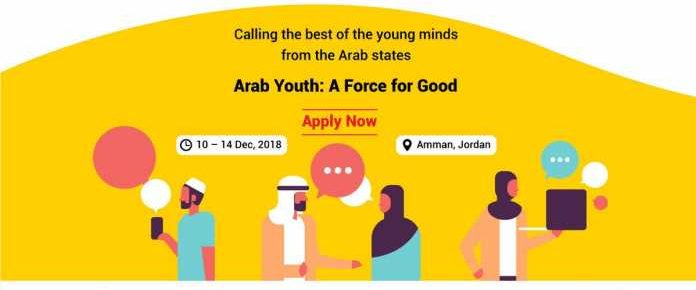 Arab Youth: A Force for Good 2018 in Jordan
UNESCO Mahatma Gandhi Institute of Education for Peace (MGIEP) and ActionAid Arab Regional Initiative are organizing the 8th edition of the Talking Across Generations on Education (TAGe). Along the vision of mobilizing youth voices for inclusion in the highest levels of policy-making processes, the TAGe will bring together, on an equal platform, 9 distinguished Arab youth and 3 senior decision makers to brood together and interrogate each other on the theme: Arab Youth: A Force for Good. Specifically, they will deliberate and share actionable ideas on education, youth civic engagement and prevention of violent extremism.
From this call, UNESCO MGIEP and ActionAid Arab Region will select 25 youth for the 3-day #YouthWagingPeace Young Peacebuilders' Workshop, 11-14 December, Amman Jordan. 15 of the 25 selected applicants will be from Jordan and 10 from the Middle East and Northern African countries. From this 25, nine youth will be selected to participate in the TAGe MENA event on the Official Launch of the Arabic Version of #YouthWagingPeace – Action Guidelines for PVEE on 10 December 2018. Each selected applicant might have the opportunity to be one of the 9 TAGe youth as well as part of the 3-day workshop.
UNESCO MGIEP seeks to reorient learning spaces that promote sustainable lifestyles, a culture of peace and nonviolence and an appreciation of cultural diversity. Based on the neuroscience of learning, the Institute envisions new education systems that build intellectual and emotional intelligence using the whole brain approach to learning, innovate digital pedagogies and put youth as global citizens at the centre of the 2030 agenda for Sustainable Development.
ActionAid Arab Regional Initiative is a movement of organizations and individuals working across the Middle East and North Africa, motivated by advancing the socio, economic and civil rights of women and young people.
ActionAid Arab Region Initiative currently operates from its regional headquarters in Amman, with programme activity in Jordan, Lebanon, Morocco and Tunisia with an additional partner programme in Palestine. They use the 'Human Rights-Based Approach' mobilizing communities to challenge governments and decision makers to secure systemic change.
Location: Jordan
Benefits
-Accepted applicants will get to learn new skills (critical inquiry skills, socio-emotional competencies, facilitation, stakeholder and resource mobilization skills etc.) as well as meet and work together (during the workshop as well as implementation of follow-on activities that will emanate from the workshop) with fellow youth from the region as well as the world on prevention of violent extremism.
-UNESCO MGIEP and ActionAid Arab Regional Initiative will help in implementing as well as promoting the participant's post-event follow-on activities.
-Stellar applications and trainees might become #YouthWagingPeace trainers who might be sent to train others regionally/globally
-UNESCO MGIEP TAGe team will support the participant in organizing their own (independently organized) TAGe event
-Post events project (financial and technical) support to ensure that the output is acted upon
-Successful applications will become part of the UNESCO MGIEP and ActionAid Arab Region Collective of youth working on peace and sustainability.
Eligibilities
-Age: 18-35
-Must participate in the ongoing online discussion and submit an Act of Kindness for either SDG Goal 4/4.7 or 16
-Area of expertise: Prevention of Violent Extremism through education; conflict resolution, youth engagement, education policy, youth policy, inter-cultural dialogue, gender-based violence/violent extremism, broad educator-peace-builder expertise. Specifically, the prevention of violent extremism
-Active – on the ground: must be currently involved in the 'area of expertise' listed above. The applicant must be currently working with communities and stakeholders on the ground.
-Influential: Highly influential and able to mobilize grassroots youth and community stakeholders in hundreds or thousands
-Good communication as well as facilitation skills (will have to go and train others!)
-Good social and social media skills
-Multilingual (Knowledge of Arabic, English and French)
Eligible Regions: Middle East and North Africa Region.
Deadline: December 9, 2018
NOTICE:
-All the sections must be completed – all questions must be answered
. Incomplete applications will NOT be accepted
-Be brief
-Be accurate
-Share as many links as possible
Application Process
Apply online through the given link.