Workshops
DATE :

REGION :
Canada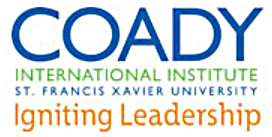 Coady Institute Indigenous Women in Community Leadership Program
Apply HERE
Deadline: April 2, 2018
Description:
The Indigenous Women in Community Leadership Enhanced Mentorship Program is an award-winning initiative offered by Coady International Institute. Offered since 2011, this program is for First Nations, Métis and Inuit women who are committed to supporting development and social change in their organizations, communities and Nations.
The program is delivered using Coady's innovative and blended approach to asset-based leadership development and prioritizes indigenous knowledge and ways of learning. It focuses on building capacity by sharing expertise and teachings between participants, mentors, and Elders. The program focuses on leadership models and community-driven development practices and examines thematic areas such as community resilience, governance and accountability, and economic empowerment in depth. Participants in this program are connected with other women leaders and development practitioners from around the world.
Program Schedule and Components: For 2018, the Indigenous Women in Community Leadership Program consists of three main components:
Pre-Residency (September 3 – 30, 2018): participants will engage in a virtual learning network to prepare for the on-campus residency (commitment of approximately three days over the month);
On-campus Residency (October 1 – 23, 2018): participants will attend on-campus intensive education program at Coady International Institute which is located in Mi'kma'ki, the ancestral and unceded territory of the Mi'kmaq People (Antigonish, Nova Scotia).
Mentorship and Community Engagement (November 1, 2018 – January 30, 2019): participants will undertake a mentorship program which involves one-on-one mentorship and guidance from established indigenous women leaders, facilitators and peers as they undertake community development projects in their respective organizations and communities.
Eligibility:
you must be a First Nation, Métis or Inuit woman and legally entitled to work in Canada.
Candidates must have at least a high school diploma or equivalency.
Successful candidates must demonstrate that they have approximately five years of leadership experience either through formal leadership roles or through community involvement, community organizations and/or volunteer work.
Candidates must be passionate about working in and developing their communities, and must be committed to the program for its duration.
To Apply: Before starting your application, please prepare a one-page statement of interest as well as resumé to upload on the application form.
Your statement of interest should contain the following:
why you think indigenous women's leadership in communities is important;
your own most important leadership experience to date (positive or negative);
what community initiative(s) you would like to build or enhance in your community.
Indicate, where possible, whether your project has the support of your community or organization.
Please read the Application Information and Frequently Asked Questions.
For further information, please contact: womenlead@stfx.ca
Application Process
Apply online through the given link.
[cwa id="facebook"]