Workshops
DATE :

REGION :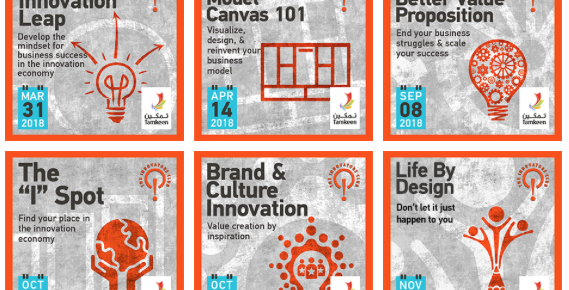 Free Workshops from The Innovators Club in Bahrain
Make a dent…
Make a difference…
Free Seminars @ The Innovators Club
Ever had the spark of a great idea but didn't know how to follow through?
Or noticed a problem so obvious that you can't believe it hasn't been fixed?
Maybe you wanna start a start-up, but not sure how to put your thoughts together?
Or you work for an organization and feel you can influence major improvements in the various ways it operates or creates value to customers?
If the idea of creating the "Next Best Thing" excites you, then join us at one of our free innovation seminars, by Fa'eq Alolaiwat*, we'd love to meet you.  
We are The Innovators Club, a group of highly passionate individuals, an innovation think tank, looking for curious and creative minds to join us in solving real-world problems through innovation.
The Innovators Club, established, sponsored and managed by Olaiwat Innovation Activation Consultancy and a group of member innovation enthusiasts.
* Fa'eq AlOlaiwat is a regional innovation and brand architect and a pioneer creative and design director with more than 25 years experience. He is a Bahraini innovation architect, entrepreneur and one of the region's pioneer intellectuals on creative communication, design innovation & organizational culture.

Eligibility Criteria
Seeking to discover the principles of innovation and lead your business into a prosperous future.

In the capacity of either:

Business owner/ Entreprenur

Leader at an organisation (eg. head of department, project leader etc..)

Exception: A person with a business idea seeking to develop it further
Event 3 on September 08, 2018: Design a Better Value Proposition
Stop wasting time and money and design products and services that customers really want!
Is your value proposition still relevant and attractive to your target customers, or is it becoming harder and harder to sell?
Join us to rediscover your value in ways you never thought possible, understand your customer on a much deeper and empathetic level and transform your business model to give it a fighting chance in the innovation economy.
Event 4 on October 06, 2018: The "I" Spot
Find your place in the innovation economy
Understand what it takes for modern businesses to succeed. Are core competencies and incremental improvements enough to build competitive advantage and lead your industry in the Innovation Economy?
Event 5 on October 20, 2018: Brand and Culture Innovation
Value creation by inspiration
Discover the power of building a big idea platform for your brand, that will inspire and unit your team and customers to create and share your value.
Event 6 on November 03, 2018: Life by Design
Don't let it just happen to you
Discover how to create a meaningful and fulfilling life using design thinking.
See https://olaiwat.com/free-workshops/
Application Process
Apply online through the given link.
[cwa id="facebook"]