Mediterranean Tech Women Network Festival
Madrid, Spain - 30 November 2022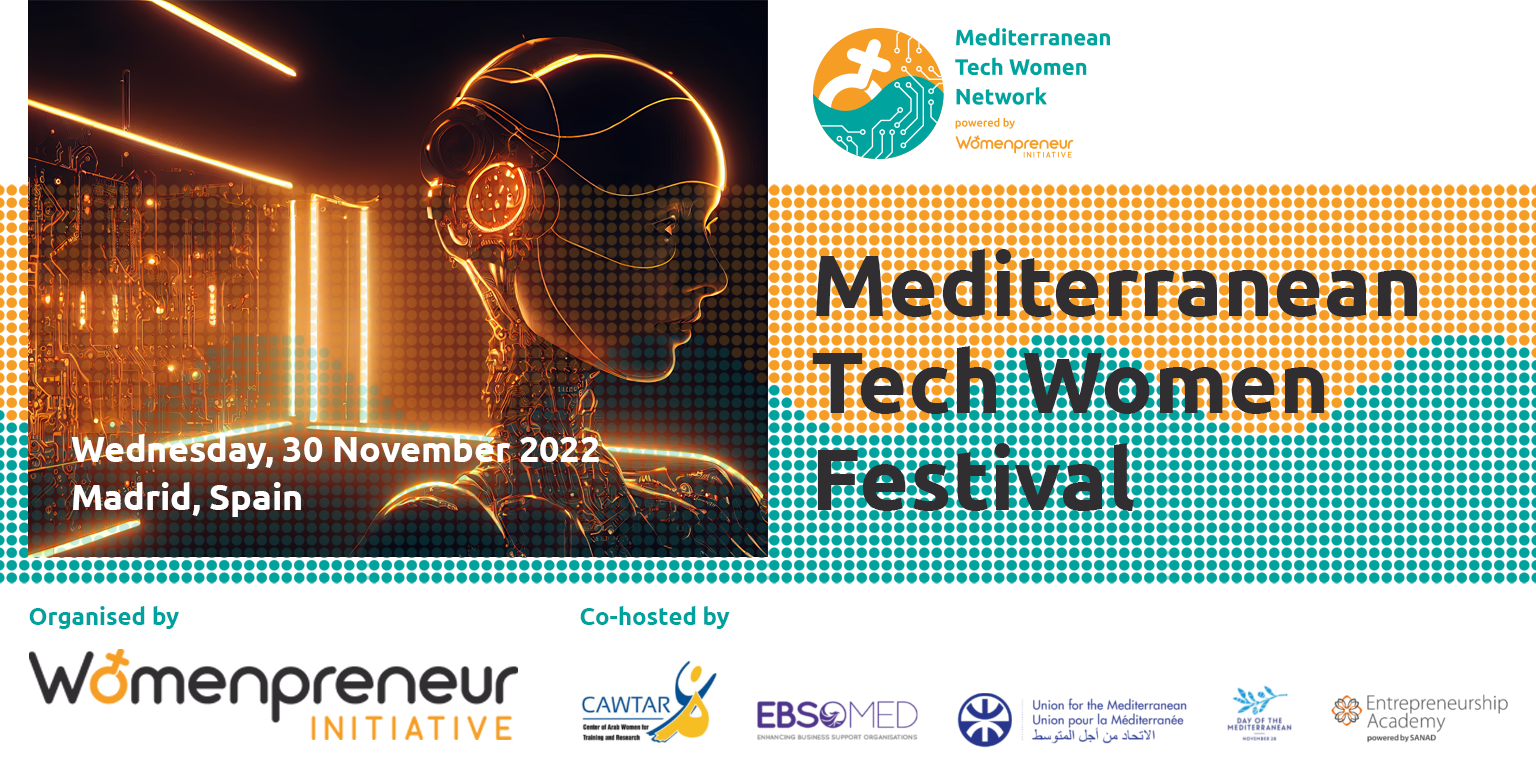 Background
As technology becomes ever more integrated in our societies and everyday lives, it is of critical importance to foster equal opportunities for women and girls to thrive in and contribute to the emergent digital economy. Mediterranean Tech Women Network seeks to foster empowerment and development in the future innovative industries. 
The Mediterranean Tech Women Network connects women across the Mediterranean for networking, learning and exchanging about talent, opportunities, support, and how to break new grounds to support thriving and sustainable innovation. While many women- and tech-centred formats (also with regional focus) already exist, there is to date no Mediterranean tech network for women. We aim to fill that gap.
According to the April 2021 UNESCO Science Report "The Race against Time for Smarter Development," women now represent 33% of all scientific researchers. However, in the fields most important to the so-called Fourth Industrial Revolution (engineering, computing, physics, mathematics)—and in which there continue to be shortages of skilled laborers—women are still in the minority. Female-friendly start-ups still struggle to access adequate funding, with only 2% of all venture capital secured funneled to those founded by women. Addressing hostile work environments, parity in senior leadership, support for female STEM academics, and equitable educational opportunities must be paramount in tackling these ongoing gaps. 
For these and other reasons, MTWN provides spaces that expose women in tech to new skills, job prospects, and role models. MTWN focuses on creating sustainable economic opportunities for women by investing not only in training, but advocacy and policymaking centered on long-term economic collaboration in tech industries across Mediterranean countries. 
Note: MTWN is an initiative that followed Womenpreneur's "Mediterranean Tech Women Week" (MTWW) in 2020 and launching event in 2021
Objectives of the MTWNFestival
The aim of the MTWNFestival is to connect female leaders across borders to create and multiply opportunities in the technology field for women and to provide role models for girls interested in STEM (science, technology, engineering, and math) careers. Encouraging dialogue amongst stakeholders and women representatives on common topics and concerns—but with different regional and cultural backgrounds—which shall contribute to bridging the considerable gap in knowledge and capacity between EU and non-EU countries and strengthen transnational economic collaboration.
MTWNFestival will : 
Connect women through community support and spaces of synergy that generate economic opportunities across the Mediterranean;  

Give exposure to the successful stories of women in tech & innovative spaces;

Support, train, and encourage female tech entrepreneurship that grows local economies and boosts job creation;

Support women's skills and resilience in times of crisis;

Engage in advocacy about issues related to women's economic capital in and access to tech fields.
The MWTN Festival hosts the "Women in Tech Awards" honouring women in tech in the Mediterranean. The ceremony will highlight key advancements of women from the previous year and present awards to selected women and companies for exceptional leadership, entrepreneurship, and technological breakthroughs. MTWN members, ambassadors, and the public are welcome to submit nominations.
You want to support closing the gender gap in tech? You want to build on your image as a gender equality advocate? You want to lead generational changes in the field of technology? You want to discover existing and future talents in the Mediterranean Region? Then join as sponsor for this year's edition.