Sana Afouaiz, founder and CEO of Womenpreneur-Initiative, and Patrick Menache, Global Adviser of Womenpreneur were honoured to meet his excellency the Ambassador H.E. Mr Ridha Ben Mosbah, and his advisor Ms. Nadia Barhoumi. The meeting followed the discussion of a collaborative partnership with the Tunisian government to better support women economically affected by COVID-19.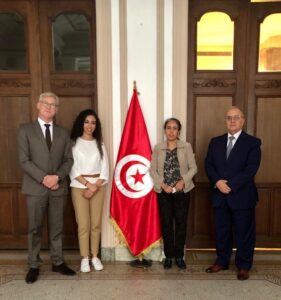 Our Activities in Tunisia 
While Tunisian women have more rights in relation to their neighbouring countries within the MENA Region, room for progress exists. Our projects strive towards spearheading such progress. As part of our mission, we launched the Womenpreneur Tour 2019 – the first of its kind – and Tunisia was one of our destinations, alongside Morocco and Jordan. 
The project successfully maps out local female talent in STEM (science, technology, engineering and mathematics) and entrepreneurial sectors within the MENA region to facilitate quality investment in its participants. For instance, in the form of promoting financial investment and social capital, access to knowledge resources, tools for policymakers and corporations to foster innovative growth, mentorship programmes and advocacy campaigns. We also demonstrate how to use technology and innovation to disrupt the ecosystem in their favour and shift harmful social stigmas holding women back.
Throughout our journey, we brought together the brightest minds in female-led entrepreneurial, technology and innovation scenes. Together, we discussed women's experiences in the field and gender barriers to economic participation, as well as their relationship with technology, innovation and entrepreneurship. Each country has its specific challenges. As far as female entrepreneurship in Tunisia is concerned, 25% of female entrepreneurs in Tunisia work in the cultural and social services sector and up to 71% of Tunisian female entrepreneurs started without any resources (i.e. financial funds, support networks, social capital).

Our findings from the tour were included in an assessment of current entrepreneurial ecosystems within the MENA region through a gender lens. In addition to that, our campaign has identified concrete action points to facilitate quality investment in women and girls. For instance, in the form of promoting financial and social capital, access to resources, mentorship programmes and gender advocacy campaigns. The aggregated results have been published in a policy paper. Read more about the findings of our tour here.
About Womenpreneur-Initiative's Mission: 
Our overarching aim is to advance women's roles in the entrepreneurial scene, technology, innovation and society. We have launched a number of initiatives promoting equal gender participation in entrepreneurial and tech sectors, with a specific focus on counteracting the effects the COVID-19 pandemic has on the cause. Since 2016, we have continuously  supported more than 13.000 women in 20 countries and have implemented more than 30 international projects. Ambitions to expand that base are constantly developing.
After the tour, Womenpreneur-Initiative launched a survey in 2020 to analyse the impact of the COVID-19 pandemic on female-led businesses in the MENA region. The results will be published in a policy paper and used to develop tailored programs to help fulfil the professional needs of female entrepreneurs within the region.

The survey is still open! If you are a female MENA-based entrepreneur, click here to partake in it. 
Call to Support Our Initiatives in the MENA Region
Our latest project was the successful launch of our Womenpreneur Digital Hub. The hub is the first virtual space whereby MENA-based women can learn, connect and grow. We aim to ensure that every woman and girl in the MENA region can access the tools and develop the skills required to realise their fullest economic potential. The hub gives users free access to a diverse community of experts, mentors and peers to share tips and collaborate, as well as various opportunities. For example: job vacancies, scholarships, online courses, competitions, workshops, and so on.
Interested in discovering inspirational leaders and initiatives in the world of technology, entrepreneurship and gender equality? Have a browse through our website, blog or Digital Hub!
If you liked our article, go ahead and spread the love!
Instagram – Facebook – Twitter – LinkedIn – Youtube

Stay updated on Womenpreneur by subscribing to our newsletter.