GIZ Egypt & Womenpreneur are delighted to invite you to participate at the Fit4Market Program, a program for women's service providers in Egypt provides targeted training and tools for participants to tap into their full economic potential !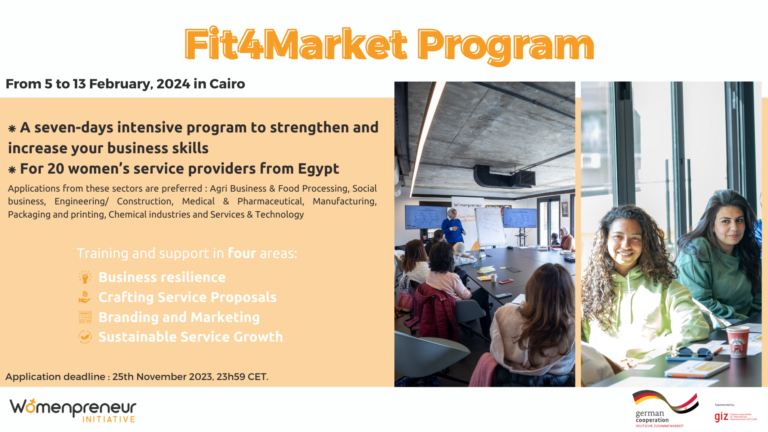 This seven-days, in-person training program will guide female service providers through exercises and workshops designed to strengthen and increase their business skills and knowledge while ensuring their services are prepared to scale up upon completing the program's activities.
The Program will provide 20 women's service providers training and support to advance in four essential areas: 
    Objectives of the program:
Promoting women's entrepreneurial activities in Egypt ;
Provide women's service providers with all the necessary tools for their services to grow and develop innovative  processes and products ;
Strengthen their resilience.
At the end of the program, successful participants will receive a Certificate of Achievement upon completion of all deliverables. 
Selection Process : 
The selection process will take place in two rounds.
In the first round an application will be published online through Google Forms that will require prospect participants to provide information about themselves and their business and take a short knowledge test on the program's focus areas (Crafting Service Proposals, Branding, Business resilience, Sustainability). Application deadline : November 25, 2023. at 11:59PM.
At the end of the first round, an independent jury will select 30 women that will pass on to the second round of selection.
In this round, the selected women will be interviewed according to the before mentioned selection criteria by the independent jury and, eventually, 20 of them will be accepted to the take part in the F4M program.
Submissions will be prioritized from applicants who come from diverse or marginalized backgrounds.